CONCORD, N.H. — As voters head to the polls at the New Hampshire presidential primary, Mitt Romney's rivals blasted his record as a venture capitalist while the GOP front-runner's support in polls eroded further.
Former House Speaker Newt Gingrich and Texas Gov. Rick Perry criticized Mr. Romney for his work at the helm of Bain Capital, where he gives himself credit for creating at least 100,000 jobs. Opponents of the former Massachusetts governor argue that he specialized instead in takeovers and layoffs.
"It is the ultimate insult for Mitt Romney to say he feels your pain when he caused it," said Mr. Perry, campaigning in Anderson, S.C.
Mr. Gingrich said on NBC's "Today" show, "At some point, Gov. Romney has to hold a news conference and walk through in detail some of the companies that Bain took over where they apparently looted the companies, left people unemployed and walked off with millions of dollars."
A pro-Gingrich group is spending $3.4 million to launch ads in South Carolina on Wednesday attacking Mr. Romney's tenure at Bain.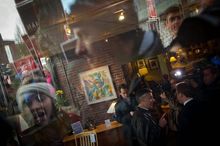 The ad concludes: "A story of greed. Playing the system for a quick buck. A group of corporate raiders led by Mitt Romney, more ruthless than Wall Street. For tens of thousands of Americans, the suffering began when Mitt Romney came to town."
Mr. Romney inadvertently added fuel to his opponents' fire Monday morning at a Chamber of Commerce breakfast in Nashua, N.H., when he said people ought to be able to "fire" their insurance company if they're not happy with the service.
"I like being able to fire people who provide services to me," Mr. Romney said. "You know, if someone isn't giving the good service, I want to say, 'I'm going to go get someone else to provide this service.' "
Other GOP candidates jumped on his comments as proof that Mr. Romney is out of touch with voters.
"Gov. Romney enjoys firing people. I enjoy creating jobs," said former Utah Gov. Jon Huntsman Jr.
As the rest of the field piled on Mr. Romney for the second straight day, his poll numbers continued to slip. Mr. Romney dropped 2 more percentage points Monday in the Suffolk/7 News tracking poll to 33 percent, down 10 points from five days ago.
He still holds a 13-point lead over Rep. Ron Paul of Texas, who came in at 20 percent. Mr. Huntsman was third at 13 percent, followed by Mr. Gingrich at 11 percent, and Mr. Santorum at 10 percent. About 12 percent said they were undecided.
New Hampshire holds the nation's first primary on Tuesday.
Steve Duprey, a New Hampshire Republican National Committeeman, said that the campaigns of Mr. Huntsman and Mr. Romney most resemble Sen. John McCain's 2008 campaign.
"Barring something unforeseen, I think Gov. Romney wins in New Hampshire, but there are historically two and sometimes three tickets — three passes — out of New Hampshire," Mr. Duprey said. "So, this is a real important fight for Ron Paul. If there is any state in the country where a libertarian should do well, this is it."