An Obama campaign adviser on Sunday said she will not apologize to Republican rival Mitt Romney for suggesting he might be a felon.
"He's not going to get an apology," Stephanie Cutter, Mr. Obama's deputy campaign manager, told CBS' "Face the Nation."
But senior Romney campaign adviser Kevin Madden said on the same program that the attacks on Mr. Romney are little more than an attempt by the Obama campaign to distract from the president's record on jobs and the economy.
"It is very troubling that the president would direct his campaign to label someone like Romney as a felon," Mr. Madden said.
The ramped-up attacks on Mr. Romney were the focus of all the Sunday political talk shows, with both sides again exchanging sharply worded charges and countercharges.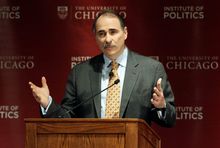 But while Ms. Cutter wasn't backing down, other Obama administration officials seemed to want to walk back Ms. Cutter's comments that Mr. Romney may have committed "a felony" by signing documents at Bain Capital.
David Axelrod, President Obama's top political strategist, said Ms. Cutter's comments were taken out of context.
"She didn't say he's a felon," Mr. Axelrod told CNN's "State of the Union."
The debate revolves around Mr. Romney's time at Bain Capital. Mr. Romney has maintained he has had no active role in Bain Capital since 1999, before the company began outsourcing jobs, but Mr. Axelrod pointed to a recently discovered corporate document filed with the SEC in 2002 that lists Mr. Romney as a managing member.
Ms. Cutter said Mr. Romney is either lying to the American people or the Securities and Exchange Commission.
"If you're telling the SEC that you are in charge but you're telling the American pepole you were not, one of those statements is false," she said.
"Those two things both can't be true," she added. "Either you're in charge or you're not."
She then suggested Mr. Romney was likely telling the SEC the truth and deceiving the American people.
"I think he was involved in Bain Capital," she said. "What he's doing is misrepresenting himself to the American people."
But Mr. Madden pointed out that fact-checkers already have said Mr. Romney was telling the truth on a complicated matter that the Obama campaign is taking out of context. He explained that while Mr. Romney wasn't involved in day-to-day activities after 1999, he still had a duty to sign documents in his limited role with the company.