Before Brett Di Resta can teach students at George Washington University what political opposition research is, he has to teach them what it isn't.
Opposition research, he insists, is not the province of sneaky, shadowy political hit men.
Nor does it involve ill-gotten dossiers, crammed with attack-ad-ready smears and lies, exchanged in dimly lit parking garages.
It's not even an exercise in remorseless, single-minded dirt digging — though the occasional (read: very occasional) candidate-felling, campaign-sinking silver bullet is always welcome.
"The first thing I tell these kids is that I don't own a trench coat," Mr. Di Resta said. "We don't go dumpster diving. We go to courthouses. Read thousands of articles. Sift through everything.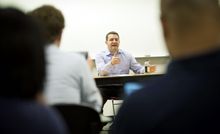 "We're not ninjas. The majority of researchers are basically nerds."
A 41-year-old Democratic consultant who has worked on numerous campaigns and for Sen. Charles E. Schumer of New York, Mr. Di Resta proudly counts himself among the dweebs.
Now an adjunct professor at GW's graduate school of political management, he has taught for three consecutive summers an eight-week course titled "The Not-So-Dark Art of Campaign Research."
One of the few academic offerings of its kind, the class teaches students how to find and spread information that can be used as political ammunition — such as the Rev. Jeremiah Wright's "God Damn America" speech, or Mitt Romney's offshore banking accounts. With a presidential campaign gone bitterly negative before the opponents have even tapped gloves and a new breed of super PACS freed from old contribution and spending limits set to pour millions of dollars into opposition research, it's a skill set that has never been more relevant.
For Mr. Di Resta, the course also provides an opportunity to rehabilitate the image of his much-maligned profession — an occupation that gave us Willie Horton, Herman Cain's sexual misadventures and Watergate, an occupation that ranks somewhere between parking enforcement officer and congressman in terms of public esteem.
To wit: In a recent NBC News segment, correspondent Willie Geist called opposition research a "dirty business" involving "money for mud"; afterwards, host Brian Williams lamented that the researchers interviewed for the piece had faces "absent emotion, expressionless, obviously absent empathy. You can't have any and be in [their] line of work."
"I saw that and was like, 'Really?'" Mr. Di Resta said. "Most of the guys I know in this business are like me. We're not doing it to stab people in the back. We think facts are important. I would think that Brian Williams also would think that facts are important."
School of hard (political) knocks
On a recent evening in Mr. Di Resta's class, three students stood at the front of a windowless conference room, earnestly tarring the political reputation of Republican Senate candidate Rick Berg of North Dakota.
(Mr. Berg's opponent, Democrat Heidi Heitkamp, was later vivisected by a separate group of eager students).