The world is experiencing a baby boom almost entirely centered in the poorer parts of the globe, according to a major new survey of global population trends released Wednesday.
The world now averages about 267 births per minute, with nearly all the growth attributed to the world's poorest countries in the developing world, according to the Population Reference Bureau's (PRB) 2012 World Population Data Sheet. The world's developed countries, by contrast, are either seeing limited or no growth at all.
"The developing countries in Africa, Asia and Latin America account for 97 percent of this growth because of the dual effects of continued high birth rates and young populations," said Wendy Baldwin, president and CEO of PRB.
The world's women now have an average total fertility rate of 2.4 children, ranging from a low of 1.1 in countries like Latvia and Taiwan to 7.1 children in the African nation of Niger.
The United States' population is growing more slowly and beginning to age more rapidly according to the PRB study. Between 2010 and 2011, the number of people under 18 declined by 190,000, while the number of people 65 and older increased by 917,000.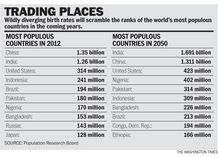 Women in the U.S. now average 1.9 children, down from 2.1 several years ago, a decline that was also noted during the Great Depression of the 1930s and the economic recession of 1970s.
Europe's prospect for an end to the continent's baby bust looks bleak as demographers predict it will be the first region in history to see long-term population decline, decreasing from 740 million to 732 million by 2050. China, India, and the U.S. still hold the title of most populous countries, although India is expected to surpass China by mid-century with population estimates at 1.7 billion by 2050.
The PRB study also found that the world's population faces its greatest health challenge from noncommunicable diseases (NCDs) such as cardiovascular disease, diabetes, chronic respiratory diseases and cancer. These diseases are now the leading cause of death for most of the world's regions, a trend that is expected to grow as researchers predict that NCDs will account for half the world's deaths by 2030.
The largest growth in NCDs, according to the study, is in the developing world's youngest citizens.
Developing nations now account for 80 percent of NCD deaths — up from 40 percent in 1990 — with 29 percent of NCD-related deaths in developing countries occurring before age 60, compared with 13 percent in developed countries.
"Simply put, populations didn't live long enough to develop these diseases before," said Carl Haub, senior demographer and co-author of the PRB study. "The problem now is people are living longer and death rates are rising because populations have limited access to diagnosis procedures, trained specialists and treatment options."
The rise in NCDs comes with a hefty price tag with developing countries expected to spend an estimated $21 trillion in attempts to treat these preventable diseases over the next two decades.