Violent storms last month and a deadly incident two weeks ago are amplifying the danger presented by falling trees and tree limbs, which can be a hazard to houses, cars, people and power lines.
On July 17, a 64-year-old Reston man was crushed to death by a 100-foot oak tree that fell on his car in Great Falls. An arborist with the Virginia Department of the Environment said the tree was rotten on the inside, but no one had called to complain about the ivy-covered behemoth in the many years it stood along Georgetown Pike.
Dying trees are a hazard in themselves, but experts said people need to watch out even for the healthiest trees, especially after severe weather — something the D.C.-area has had no shortage of this year.
At the end of June, a rare derecho storm tore through the mid-Atlantic region, bringing with it 60 mph winds that ripped roofs from homes and knocked over thousands of trees and pulled down electrical lines. Nearly 30 deaths nationally were attributed to the storm, including one 90-year-old woman in Virginia who died when a tree fell through her roof, and a tree-trimmer working in Garrett County, Md., who fell to his death trying to remove debris. A D.C. woman was paralyzed after a tree landed on her while she was riding her motorcycle during the storm.
Several thunderstorms have passed through the area since the derecho. While they have not been as strong as that storm, they still have knocked out power and shaken already battered trees.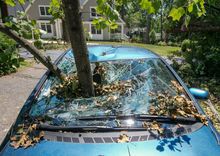 "Lots of times we have severe storms and trees come down all over the place," said Lew Bloch, a member of the American Society of Consulting Arborists who lives in Potomac. "Then weeks or months later, other trees come down that are injured but not destroyed."
The types of injury Mr. Bloch referred to can range from a tree that is leaning over, to a split trunk or loosening roots.
The trouble is knowing where to look for this damage.
"Sometimes it's easy to notice and sometimes it's not," Mr. Bloch said. "If it's a tree in somebody's lawn and it's the only tree there, you can discover these things."
Where things get dangerous is when trees are in heavily forested areas bordering roads owned by the state or local government.
While municipalities have a duty to inspect trees along the road, "it's practically impossible for somebody to walk up and down the highway inspecting trees," Mr. Bloch said. "You can't spot everything doing this."
Healthy trees fall, too
More than 400 people were killed from 1995 to 2007 by wind-damaged trees, according to a 2008 study published by Spring Science and Business Media. Almost half were killed by trees that fell on them while driving, or they drove into a fallen tree knocked down by heavy winds.
The challenge for municipalities to monitor their trees might have contributed to the death of 64-year-old Albert Carl Roeth III, as he drove through Great Falls on a Tuesday evening after three days of severe weather.
Virginia Department of Transportation spokeswoman Joan Morris said the agency had not received any complaints about the century-old tree. But when it fell, exposing its roots and insides, she said it was obvious the tree "was clearly decayed."