The U.S. Conference of Catholic Bishops wrapped up two weeks of events meant to highlight what they say are attacks on religious liberties Wednesday with a Mass attended by an overflow crowd of at least 4,000 at the Basilica of the National Shrine of the Immaculate Conception.
The "Fortnight for Freedom," a nationwide slate of prayer, services and other religious observances, comes as church officials are locked in a legal and political standoff with the Obama administration over the president's new health care law, which many in the Catholic Church oppose because the law will require faith-based schools, hospitals and other employers to provide health insurance coverage for some contraceptive and abortion services.
Cardinal Donald W. Wuerl, the archbishop of Washington, said the event's purpose was "simply to bear witness and celebrate our religious freedom."
Cardinal Wuerl went on to say that American Christians see patriotism as a virtue and the goal for Christians was to "build a society built on the highest moral and constitutional institutions."
Archbishop Charles Chaput of Philadelphia also spoke, telling the standing-room-only crowd of 4,000 to "render unto Caesar those things that bear Caesar's image, but more importantly, render unto God that which bears God's image — in other words, you and me. All of us."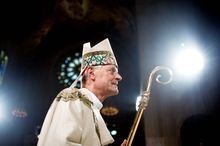 Maureen Ferguson, a spokeswoman for the Catholic Association, called Fortnight for Freedom a huge success and said she had never seen so many people engaged, "from the bishops down to the laity."
Ms. Ferguson praised the actions of churches across the country, citing multiple prayer vigils, guest lecturers and church bulletins, and she dismissed criticisms that the events had become too political.
"We don't surrender our First Amendment rights because it is an election year," she said.
Brie Hall, a communications manager for the Archdiocese of Washington, echoed those sentiments, saying the events were not about politics but prayer.
The archdiocese's kickoff event in late June at the Charles E. Smith Center drew 2,000 people. Other events included a young-adult music festival and service projects that drew crowds in the hundreds.