A breakdown of security in Libya has allowed a significant flow of militants and weapons into other troubled areas in North Africa, according to the top Pentagon official on Africa policy.
The outflow of Libyan weapons and militants has "created opportunities for al Qaeda in the Islamic Maghreb to exploit instability and establish new and expanded safe havens," said Deputy Assistant Defense Secretary Amanda J. Dory.
Speaking at a conference sponsored by the Africa Center for Strategic Studies this week, Ms. Dory specifically noted the turbulent situation in Mali, where rebel military forces and Islamist militants have seized control of a large part of the country.
The developments highlight the growing U.S. military interest and involvement in Africa as the Pentagon implements a strategy to thwart militants and terrorist groups across the continent.
According to the U.S. intelligence community's 2012 Worldwide Threat Assessment, Africa-based terrorist groups such as al-Shabab in Somalia, al Qaeda in the Islamic Maghreb (AQIM) in Algeria and Boko Haram in Nigeria will surpass the remnants of the "core" al Qaeda in Pakistan in terms of threats to U.S. interests and will seek opportunities to strike Western targets in their operating areas.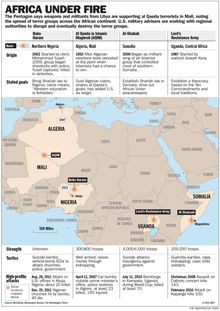 To counter the threat, the Pentagon is working in close coordination with the State Department and 10 partner countries to build a regional counterterrorism capacity, Ms. Dory said.
"Regional cooperation and information-sharing between militaries will be more important than ever as we grapple with the challenges associated with the outpouring of weapons and people from Libya into the greater Maghreb and Sahel regions," she said.
New policy, new strategy
It is this kind of partnered response that the Pentagon is building upon in its defense strategy in sub-Saharan Africa, which seeks to deepen security partnerships with African nations and regional organizations to address threats and challenges.
"The interests of the United States and Africa converge in important ways," Ms. Dory said. "The United States is more secure when our friends and allies around the world are secure."
Defense officials note that President Obama recently issued an Africa directive calling for a focus on strengthening democratic institutions, spurring economic growth and investment, promoting development, and advancing peace and stability.
Ms. Dory's public remarks Monday were the first by a defense official on the new policy and strategy in Africa.
The strategy calls for the U.S. to leverage its expertise in border security, maritime-aviation security, cybersecurity and financial transactions to counter the illicit movement of people, arms, drugs and money, she said.
"We will concentrate our efforts on disrupting, dismantling and eventually defeating al Qaeda and its affiliates and adherents in Africa and elsewhere," Ms. Dory said.
J. Peter Pham, director of the Michael S. Ansari Africa Center at the Atlantic Council, said the new strategy is really a continuation of various programs begun by Presidents Bill Clinton and George W. Bush to build up African military capacity and peacekeeping.