He is a burly, outspoken, working man's icon, plucked from obscurity during the 2008 presidential election cycle when he was lauded by Republicans for taking on candidate Barack Obama.
Now four years after Samuel Joseph Wurzelbacher became "Joe the Plumber," the symbol of frustrated middle-class Americans worried about the Obama tax plan, the Ohio native is mounting his own Republican bid to unseat a 15-term incumbent Democratic congresswoman.
Using the name recognition generated by his 15 minutes of fame, Mr. Wurzelbacher is gearing up to take on Rep. Marcy Kaptur in a redrawn northern Ohio district that looks like it was designed as a stronghold for the Toledo Democrat.
This month, the veteran congresswoman easily dispatched Rep. Dennis J. Kucinich, the progressive icon who ended up in Ms. Kaptur's newly reconfigured 9th District after his own was eliminated as a result of the 2010 census.
Prognosticators say that if a Hollywood favorite like Mr. Kucinich can't unseat the powerful, union-backed incumbent, what chance does a newcomer have?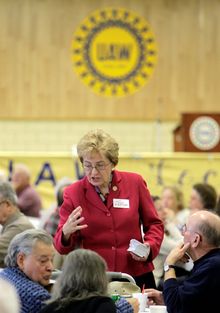 Just watch, says "Joe the Plumber."
"You have to have confidence in yourself," Mr. Wurzelbacher said. "You have to be grounded as an individual. I know where I stand. I know my style. I keep things in perspective."
Calling his own plays
Mr. Wurzelbacher, 38, said he won't be taking his cues from the Washington establishment or the tea party.
Instead, he is relying on friends and family to serve as a sounding board and posse — an advisory team of hardworking, beer-drinking, Wal-Mart-shopping "average Joes" whose No. 1 issue, Mr. Wurzelbacher said, is jobs.
Jobs, jobs and jobs, he repeats, lamenting that his neighbors and friends for 30 years have been forced by the economy to leave their homes and move for work.
He feels their pain. Shares it. Like them, he's not rich. He struggles, a fact that makes his shoe-leather campaign all the more relevant, he said.
"This economy is displacing family members and friends. My son … can't stay here because he'll just end up with a job for $7 an hour. Personally, I don't know how I will afford my house payments. Just simple things that people take for granted are no longer there."
Going after the incumbent
Too many politicians, Mr. Wurzelbacher said, see statistics instead of people.