STEUBENVILLE, Ohio — While Mitt Romney squeaked out a narrow victory in Ohio's Republican primary, chief opponent Rick Santorum peeled away the scab and drew new blood over the former Massachusetts governor's history on health care, resurrecting the chief obstacle between Mr. Romney and the nomination.
Mr. Santorum attacked Mr. Romney on new revelations that the former governor supported an individual mandate not only in Massachusetts, but — at least in Mr. Santorum's read of things — for Americans nationwide, just like President Obama's health care law does.
Mr. Romney ended up winning six of the 10 states that held contests on Super Tuesday, including the major prize of Ohio, but the health care attack promises to loom big as the campaign turns to caucuses this weekend in Kansas and primaries next week in Mississippi and Alabama.
"I have never been for an individual mandate on the state or federal level," Mr. Santorum said Tuesday at his election-night party in Ohio, hours before the state was called for Mr. Romney. "I have never passed a statewide government-run health care system, but Gov. Romney did."
The calendar in the next two weeks looks dangerous for Mr. Romney, with the two Southern states combined with a slate of caucuses, both features of races where his record has been mixed.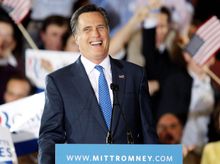 Later in March, Illinois holds its primary, which should be more friendly ground.
But Mr. Romney is once again the chief target, and the health care revelations of the past week will provide ammunition for his rivals.
Mr. Romney has contended that while he approved a mandate that all Massachusetts residents buy insurance, he didn't think the federal government should impose that nationally.
Such a federal mandate is the chief component of Mr. Obama's national law — which most Republicans, and all four Republican presidential candidates, say should be repealed.
In the past week, however, Mr. Santorum has highlighted a television appearance and an op-ed column by Mr. Romney, both of which had been previously overlooked, that suggested he supported a national mandate.
In the television appearance he spoke favorably of a bill sponsored by Sen. Ron Wyden, Oregon Democrat, and then-Sen. Robert F. Bennett, Utah Republican, that included such a mandate. In the USA Today column, he urged Mr. Obama to use Massachusetts as a model for a national plan.
Talk-show host Joe Scarborough, a former Republican congressman, said the revelations mean Mr. Romney "lied" when he said he supported a mandate only in Massachusetts but not nationwide.
Mr. Santorum, fellow candidate Newt Gingrich and their allies have spent months warning that Mr. Romney would have a tougher time drawing distinctions with Mr. Obama in the general election, and now they accuse Mr. Romney of obscuring his support for a national mandate.
"It is one thing to defend a mandated, top-down government-run health care program that you imposed on the people of your state, and it is another thing to recommend and encourage the president of the United States to impose the same thing on the America people," Mr. Santorum said.
"And it's another thing yet to go out and tell the American people that you didn't do it. We need a person running against President Obama who is right on the issues and truthful with the American public," he concluded in Tuesday night's speech.