BOGOTA, Colombia (AP) — A bomb targeting a former Colombian interior minister killed two people and injured at least 19 others in the heart of Bogota's uptown commercial district on Tuesday, authorities said.
President Juan Manuel Santos said the former minister, Fernando Londono, was hurt but was out of danger, and Bogota Mayor Gustavo Petro tweeted that "a person committed the attack while walking."
Mr. Petro also tweeted, without further detail, that someone had been arrested, but officials did not immediately ascribe blame for the attack.
Mr. Santos said in a brief televised declaration that Mr. Londono's driver and a police bodyguard were killed in the bombing. Mr. Londono's armored SUV was attacked just before midday on Calle 74 a half block from Caracas Avenue.
The district is packed with office buildings, stores, restaurants and banks.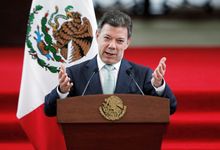 TV images showed Mr. Londono, 78, being escorted, walking but stunned, from the vehicle in a suit and tie with blood stains on part of his chest. One of his bodyguards held a gun. In addition to the SUV, adjacent vehicles were badly dented by the bomb.
"Fortunately, Dr. Londono is stable. He's in the hospital," Mr. Santos said.
Former Vice President Francisco Santos, a radio news director and first cousin of the current president, visited Mr. Londono in the Clinica del Country hospital and said the former minister had some shrapnel wounds and was saddened by the deaths of his bodyguards.
Guillermo Jaramillo, the city health director, told Caracol Radio that at least 19 people were hurt.
Earlier Tuesday, police said they had deactivated a car bomb in the center of the city and said they presumed it was from the Revolutionary Armed Forces of Colombia, the country's main leftist rebel group, known as the FARC.
Mr. Londono served as interior and justice minister in 2002-03 under former President Alvaro Uribe and is an outspoken conservative foe of the FARC.
In newspaper columns, Mr. Londono is a firm defender of Mr. Uribe against allegations the former president was too cozy with backers of illegal far-right militias.
He also has criticized the current president as not being firm enough in fighting the FARC. The rebels have suffered serious setbacks in the past few years but recently have inflicted serious casualties on security forces.