MADISON, Wis. — Amid signs that the effort to oust Republican Gov. Scott Walker is losing ground, Wisconsin Democrats and union leaders are preparing a fundraising and get-out-the-vote push to regain momentum in the final weeks before the June recall election.
Mr. Walker, aided by a huge influx of money from conservative supporters nationwide, has opened a lead in a race that had been dead even in the polls.
The first-term governor, who has raised $25 million, has been blanketing Wisconsin with broadcast advertising touting his handling of the economy. His Democratic opponent, Tom Barrett, who did not win his party's primary until May 8, has raised only $1 million and not been able to match the blitz. The most recent public poll on the race released last week showed Mr. Walker leading by 6 percentage points.
"I feel like Walker does have the momentum," said Michael Brown, who was among those who organized the petition drive that netted more than 900,000 signatures to force the recall vote. "It's up to the people of Wisconsin to push back."
The effort to recall Mr. Walker, which began after he successfully pushed to remove the collective bargaining power of public employee unions as a budget-saving move, has become a nationally watched battle over worker rights.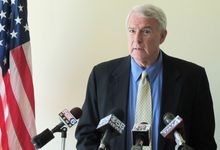 Mr. Walker got another boost over the weekend when the Milwaukee Journal Sentinel, the state's largest paper, endorsed him in an editorial on the recall battle.
A disagreement "over a single policy is simply not enough to justify a vote against the governor," the paper said. "It's time to end the bickering and get back to the business of the state. We've had our differences with the governor, but he deserves a chance to complete his term."
Democratic strategists say Mr. Barrett can still rebound with a new surge of advertising and volunteer work before the June 5 vote.
"Last week was the first week that the Walker and Barrett campaigns, and their allies, were at spending parity on television," said Wisconsin Democratic Party Chairman Mike Tate. "We are, internally, seeing things start to move in our direction in a very substantial way."
But those on both sides agree that getting voters to the polls will be more important than swaying the undecided, who may only amount to a small fraction of the electorate.
"Who can get their base to turn out — that's it right there," Mr. Brown said.
Mr. Tate said Democrats have prepared a "huge, well-funded" turnout operation that will deliver more votes to Mr. Barrett than he received in the 2010 governor's race, when he lost to Mr. Walker, a county executive, by 5 percentage points.
The Democratic National Committee said Monday it has sent $1.4 million to Wisconsin in the 2012 election cycle and is tapping its organization to turn out votes for Mr. Barrett.
Republican volunteers, meanwhile, contacted 200,000 voters over the weekend on top of 2 million calls they had made since January, said Wisconsin Republican Party spokesman Ben Sparks.
"Voter turnout is obviously a focus in the final two weeks of this recall election," Mr. Sparks said.