Germans getting ahead by getting along
Third of three parts
NUREMBURG, Germany — Underlying Germany's vaunted manufacturing machine is a system of close collaboration among business, labor and government that has served the nation well in recent years and stands in marked contrast to the increasingly adversarial system in the U.S.
Most factories in Germany are unionized, businesses have labor representatives on their boards, and union demands typically are not sources of tension or hostility with management. On a recent tour of factories here, chief executives professed to value their workers for their institutionalized knowledge and skills.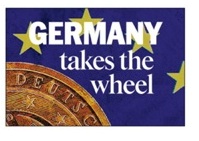 U.S. companies slashed more than 6 million jobs in a matter of months during the Great Recession in the biggest job bloodletting in a half-century. In Germany, businessmen interviewed here said, they went to great lengths to retain their workers during the steep downturn of 2009.
That led to a remarkable development: German unemployment actually declined during the recession.
"We treat our people well. Then we can demand more," said Count Anton-Wolfgang von Faber-Castell, owner of the Faber-Castell manufacturer of pencils and luxury pens on a beautiful campus outside this city, best known for its trials of Nazi war criminals.
Faber-Castell was one of the first companies to offer its workers insurance benefits during the 19th century. Baron Lothar von Faber, a fourth-generation owner, set up a company health insurance plan in 1844, built housing for his employees and contributed to the building of schools and churches.
For his extraordinary social conscience and business success, the baron was decorated by Bavaria's king.
Mr. Faber-Castell, who is the eighth generation of his family to run the company, continues the tradition and has added environmental stewardship to the traditional largesse toward labor. He said that losing his best workers is among his biggest worries.
"The biggest threat is not to find the right people whose heart is beating for the product," he said. "You need a certain passion."
Far from pink-slipping the company's oldest and most experienced workers during a downturn as many U.S. companies did, Mr. Faber-Castell said, he cultivated them.
Valuing older workers
"I worry that we didn't keep people long enough," he said, harking back to the recent early retirement of a key employee in Brazil, which seemed to set back the company's largest pencil factory there.
"We respect our people. We do not kick old, experienced people out. How do you keep the know-how?" he asked.
View Entire Story
© Copyright 2013 The Washington Times, LLC. Click here for reprint permission.
Independent voices from the The Washington Times Communities
The Constitution: Every issue, every time. No exceptions, no excuses. And how to get from here to there.
Why can't humans just be free to be humans?
Get in the middle of all the action inside and outside the boxing ring.
Find the latest news and happening that effect those in the Washington D.C., Northern Virginia and Maryland Metro region.