Al Qaeda's top bomb maker in Yemen is so ruthless that he recruited and equipped his own brother for an underwear-bomb suicide attack against a top Saudi royal in 2009.
"Even for al Qaeda, that's cold," said author Peter Bergen, who has studied the group since the late 1990s.
Now Ibrahim al-Asiri, 30, is suspected of making a new underwear bomb designed for use against a U.S.-bound airliner in a plot uncovered last month by U.S. and Saudi intelligence and thwarted within the past few days.
The supposed would-be bomber was an informant working for the CIA and Saudi Arabian intelligence, U.S. and Yemeni officials said Tuesday, according to the Associated Press. The informant, who delivered the bomb to authorities, is safely out of Yemen.
The revelation, first reported by the Los Angeles Times, shows how the CIA was able to get its hands on a sophisticated underwear bomb well before an attack was set into motion, the AP reported.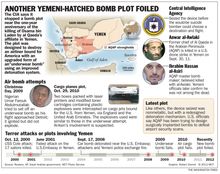 Underwear bombs and other explosive devices, such as the converted printer cartridges used in the foiled October 2010 air-cargo bomb plot, are al-Asiri's trademark, President Obama's senior counterterrorism adviser said.
Al-Asiri "has demonstrated real proficiency as far as concealment methods as well as the materials that are used in these" bombs, John Brennan said Tuesday in an interview on NBC-TV.
A Saudi national who has served time in the kingdom's prisons, al-Asiri is the son of a pious retired military man, according to the Saudi Gazette newspaper. The U.S. designated him a terrorist kingpin last year, and he is wanted by the Saudis and by Interpol.
He is believed to be one of the top targets of the recently stepped-up U.S. campaign of lethal drone attacks in Yemen.
The FBI, which is examining the underwear bomb, said it is "very similar" to devices used in plots by al Qaeda in the Arabian Peninsula (AQAP), the terrorist network's affiliate in Yemen, "including against aircraft and for targeted assassinations."
That clearly is a reference to the August 2009 attempt to kill Saudi Deputy Interior Minister Prince Mohammad bin Nayef, who was injured slightly when al-Asiri's brother Abdullah blew himself up at a meeting he had requested to turn himself in to authorities.
Initial reports suggested that the bomber had concealed the bomb in his rectum, but Saudi investigators concluded that the device was an underwear bomb, said Mr. Bergen, who was briefed by Saudi officials at the time.
They discovered that the device, made of a plastic explosive called PETN, used a chemical detonator, had no metallic components and could not be detected by conventional metal-detector screening.
On Christmas Day 2009, Umar Farouk Abdulmutallab attempted to detonate a similar underwear bomb aboard a Detroit-bound U.S. airliner. The detonator failed, probably because Abdulmutallab had sweated through his underwear and dampened the detonator, officials told The Washington Times last year.
The latest version of the underwear bomb has an improved detonator, a U.S. official said Tuesday.