As Metropolitan Police Chief Cathy L. Lanier renegotiated her $253,000-a-year salary this week as the nation's fourth highest paid police administrator, one argument unavailable to her was that she is hurting for money.
Figures released by the Office of the Chief Financial Officer show that Chief Lanier and her boyfriend, Metropolitan Police DepartmentSgt. James M. Schaefer, with whom she shares a "principal residence" in Maryland, received more than $400,000 in salary and "employer paid benefits" in 2011.
Despite Chief Lanier's promise to cut police overtime pay, more than $34,000 of the couple's income came from Sgt. Schaefer's overtime pay for just the first six months of the year, according to the figures.
On Wednesday, Chief Lanier and the District announced an agreement on her new contract, which shows no salary increase, possibly avoiding a showdown with the D.C. Council, which recently enacted a law that purported to cap executive salaries such as hers.
But previously unexamined is Sgt. Schaefer's compensation, which has risen significantly under her command.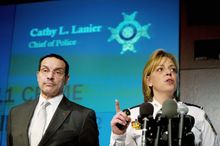 The figures were disclosed in response to Freedom of Information Act requests by The Washington Times last year. The first disclosure provided a breakdown of Sgt. Schaefer's salary and benefits history from 2005 through June 2011. At that time, the figures showed more than $83,000 in regular, overtime and longevity pay, along with $5,000 in employer-paid benefits for the first six months of 2011.
A second disclosure provided a similar breakdown from 2000 to the beginning of August 2011, and showed more than $101,000 in regular, overtime and longevity pay through the first seven months of 2011, along with more than $50,000 in employer-paid benefits — an increase of more than $45,000 in such benefits in just one month.
Since that time, city officials have declined to update those figures for the remainder of 2011 or explain the nature of — or the sharp increase in — Sgt. Schaefer's employer-paid benefits. Instead, the financial officer's office referred The Times to the 2011 W-2 report for all D.C. employees, which shows Sgt. Schaefer's "taxable wages" for 2011 as $122,754.
'Base salary'
The Metropolitan Police Department, in response to questions this week about Sgt. Schaefer's compensation, said in an email that his "base salary" is $92,387 and he made $38,088 in overtime last year. Spokeswoman Gwendolyn Crump declined to explain the discrepancies with the financial office's figures, or how Sgt. Schaefer earned $34,000 in overtime in the first six months of 2011 and $4,000 thereafter.
Other public disclosures, such as a report to the D.C. Council last year, suggest that Sgt. Schaefer maxed out for his pay grade in 2010 at an annual salary of roughly $106,000 — before overtime or employer-paid benefits.
Sgt. Schaefer, a 33-year department veteran, began his career as a patrol officer and served for eight years in the department's Traffic Enforcement Branch before joining the Motor Carrier Safety Unit in 1996, a small unit he now supervises that enforces local and federal laws pertaining to commercial vehicles. According to the department, much of the unit's overtime pay is funded through federal grants.
Yet Sgt. Schaefer's rise within the department, at least salarywise, appears to coincide with the timing of his relationship with Chief Lanier during her ascension. According to the chief financial officer's figures, Sgt. Schaefer was earning $89,000 per year in 2000, placing him in the midrange of salaries for officers with 20 or more years on the job.
Though it is unclear when the couple began their relationship, in 2002, when Sgt. Schaefer was earning close to $95,000 per year, he and Chief Lanier — then commander of the Special Operations Division, which oversees the motor safety unit — purchased a 3,200-square-foot home on 8.7 acres in Anne Arundel County for $600,000, Maryland property records show.
The department denies that the couple share a household, and because D.C. law requires executives to reside in the city, Chief Lanier bought a $471,000 two-story row house in Fort Lincoln in 2007, just after she signed her first contract with the city.