JERUSALEM — The tenuous truce between Israel and Hamas militants after eight days of savage fighting now relies on Egyptian President Mohammed Morsi to guarantee the cease-fire he spent days crafting.
Israeli Foreign Minister Avigdor Lieberman, who once suggested bombing the Aswan Dam and flooding the Nile Valley in Egypt, went out of his way Wednesday to praise Mr. Morsi, a member of the Islamist Muslim Brotherhood.
"He deserves thanks for his ability to take responsible and considered decisions," Mr. Lieberman said. "I hope it portends a future of constructive cooperation."
Mr. Morsi played a delicate diplomatic role as a leader of the Brotherhood, which sided with Hamas in the conflict. Last week, Mr. Morsi called Israelis the "aggressors" after they retaliated for months of Hamas rocket attacks on Israeli communities.
He even threatened Israel, claiming they will "pay a heavy price if they continue this aggression."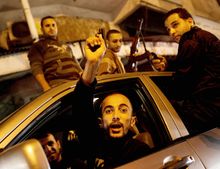 However, Mr. Morsi balanced his support for Hamas — an offshoot of the Brotherhood that is dedicated to Israel's destruction — with his need for support from the United States, which sided with Israel and defended the Jewish state's right to defend itself from terrorist attacks. He agreed that Egypt will monitor the cease-fire.
President Obama "thanked President Morsi for his efforts to achieve a sustainable cease-fire and for his personal leadership in negotiating a cease-fire proposal," the White House said.
Secretary of State Hillary Rodham Clinton, who rushed to the region Tuesday to help with the peace talks, also praised Mr. Morsi, saying Egypt is "assuming responsibility and leadership" in the Middle East.
She warned, however, that this "is a critical time for the region."
Israeli Defense Minister Ehud Barak also cautioned about the reliability of a cease-fire with Hamas.
"We expect the agreements to be fully honored, but from past experience we are aware it might be short-lived," he said.
Although Israel agreed to a cease-fire, Prime Minister Benjamin Netanyahu warned of "severe military action" if Hamas or Islamic Jihad, another designated terrorist group in Gaza, breaks the truce.
More talks to follow
Israel insisted that the agreement announced in Cairo deal only with a cessation of hostilities. Negotiations on other substantive issues will begin in a few days after Israel confirms that the Palestinians are honoring the cease-fire.
Mr. Obama also applauded Mr. Netanyahu and expressed his "appreciation for the prime minister's efforts to work" the Egyptian government, the White House said.