ANALYSIS/OPINION:
Madness isn't just afoot in the NHL, it's skating figure eights. (And any day now, it'll probably land a quadruple Axel.)
Once again, a season — all of it — is in jeopardy. It's enough to make you want to hijack a Zamboni and drive it through Gary Bettman's office door. And if it's enough to make you feel that way, imagine how it makes Roman Hamrlik feel.
Hamrlik, the Washington Capitals' durable defenseman, came into the league 20 years ago. Or to put it another way, he came into the league three lockouts ago. The first, in 1994-95, cost him nearly half a season — 34 games. The second, in 2004-05, cost him a whole season — 82 games. And the current one might cost him another whole season if the two sides can't find common ground.
Add it up, and you get 198 games. That's a career for some guys. In fact, it's exactly how many games Kris Beech, the Caps' first-round pick in 1999, played in the NHL. Only a handful of active players have sacrificed as much for the labor cause as Hamrlik has.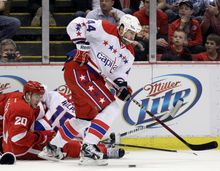 So it shouldn't surprise anyone if Roman is starting to glance at his watch and tap his foot. But it certainly upset a lot of players last week when he told a Czech reporter he's "disgusted" with the pace of negotiations and thinks union head Donald Fehr should put the owners' latest offer to a vote. Troy Brouwer, the Capitals' alternate player representative, accused him of being "selfish," of not looking at the bigger picture.
To which I reply: If anybody has a right to speak his mind about hockey's sorry state of affairs, it's Roman Hamrlik. Besides, only the concussed would believe there's unanimity in the player ranks, so it's not like Hamrlik has told us anything we don't already know. It was just nice to get a few moments of unguarded honesty from somebody before Fehr and Bettman resumed their smoke-blowing.
Hamrlik, by the way, is back in his native Czech Republic, spending some time with his daughter Natalyea and watching his brother Martin play for Zlin, his hometown team. I talked to him Monday on the phone. There were some things he wanted to clarify, things that "maybe somebody misunderstood."
For starters, "I'm just frustrated like everybody else," he said — more so, perhaps, "because of my own experience, being in the lockout in 2004 and the one before that. I told some guys we should have started talking [to the owners] in January instead of waiting until after the finals. Then maybe this wouldn't have happened. We didn't give ourselves much time to compromise."
To some of his peers, Hamrlik is just a veteran who has made his money — millions — and isn't too concerned about the future; all he wants is to squeeze out another well-paid season or two before he retires. (He has a year left on the two-year, $7 million contract he signed with the Capitals.)
Roman would take issue with that characterization. Yes, he's 38, and yes, "I got my money. But it's not about the money for me. I want the best deal for the players. When I was younger, the older guys were sacrificing. Now I'm in the same spot.
"For me, it's more: This is maybe my last chance to play for the Cup. I grew up in a communist republic, and my dream was to win the Cup. I think I can play another year or two, but time is flying. In 2004, there were so many older guys who sacrificed and then didn't come back [after the lockout ended]. That could happen to me."
We tend to forget that, forget that Hamrlik grew up in a country that had communism shoved down its throat for more than 40 years. And now he's playing in league that has shoved three lockouts down his throat. Think he might react a little differently to being caught in the labor-management vise than, say, a Canadian does?
"I was lucky [to play so long]," he said. "We're all so lucky to play this game. We're making a great living. The life is beautiful. In Canada, every kid wants to be in our shoes. But for me right now, it's more about winning the Cup with the Capitals. And hopefully I can still bring something to the table."
When Hamrlik heard Brouwer was upset with him, he called his teammate and they talked. Talked across generations. Talked across cultures. "He's a great teammate," Roman said. "I don't have a problem with any comment he makes. We talked as friends, and that was it."