DANVILLE, Ky. — Looking to erase the memory of President Obama's widely panned debate performance from a week ago, Vice President Joseph R. Biden took the fight to his rival Paul Ryan on Thursday, accusing him of obfuscating Republicans' tax cut plans and calling GOP criticism of the administration's handling of last month's Libya terrorist attack "malarkey."
Mr. Ryan, the Republican vice presidential nominee, stood his ground and fought back by arguing the Obama administration was late in spotting terrorism in the Libya attack, has allowed Iran to get four years closer to a nuclear weapon, has left the economy in shambles and will have to raise taxes on the middle class.
"There aren't enough rich people and small businesses to tax to pay for all their spending," Mr. Ryan said. "Watch out middle class, the tax bill is coming to you."
The two men faced off in their only debate of the presidential campaign, and the national audience saw repeated sharp exchanges, led chiefly by Mr. Biden, who said Republicans' own tax plan doesn't add up, and GOP presidential nominee Mitt Romney would be forced to raise taxes on the middle class in order to pay for tax cuts for the wealthy.
He also raised an issue that Mr. Obama shied away from in his debate last week with Mr. Romney, pointing to the Republican's caught-on-tape comment that 47 percent of Americans are dependent on government and see themselves as victims.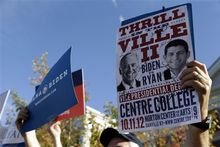 "I've had it up to here with this notion that 47 percent — it's about time they take some responsibility here," Mr. Biden said.
"Instead of signing pledges to [Americans for Tax Reform President] Grover Norquist not to ask the wealthiest among us to contribute to bring back the middle class, they should be signing a pledge saying to the middle class, we're going to level the playing field. We're going to give you a fair shot again," Mr. Biden said.
"We are going to not repeat the mistakes we made in the past by having a different set of rules for Wall Street and Main Street, making sure that we continue to hemorrhage these tax cuts for the superwealthy," he said.
The two men wasted little time in battling, with moderator Martha Raddatz of ABC News asking Mr. Biden to explain why the administration at first blamed a video for the Libya consulate attacks, and only belatedly acknowledged terrorism.
Mr. Ryan echoed that message.
"It took the president two weeks to acknowledge that this was a terrorist attack," Mr. Ryan said. "This is becoming more troubling by the day."
Mr. Biden chuckled through much of Mr. Ryan's claims, then said Mr. Ryan was in error in most of his claims. He promised to "get to the bottom" of the security lapse that led to the attack, in which the U.S. ambassador to Libya and three other Americans were killed.
The vice president blamed the intelligence community for the false information that he, Mr. Obama and the rest of the administration gave in the immediate aftermath of the assault, when they dismissed terrorism and instead said it was an overheated protest of an anti-Islam video.
"That was exactly what we were told by the intelligence community," Mr. Biden said, adding that the administration had no knowledge of pleas from Libyan-based diplomats for more security at their outposts.
"We did not know they wanted more security," he said.