BOCA RATON, Fla. — Mitt Romney crossed a major threshold early this week, briefly moving above 50 percent in his favorability rating, according to the Real Clear Politics average of polls — giving the Republican a lead over President Obama for the first time on that measure.
Now, with the presidential debates behind him, Mr. Romney has punctured Mr. Obama's effort to make him unacceptable in the minds of voters, and they enter the final two-week stretch of the campaign having once again turned the election into a referendum on the president.
"The debates — especially the first one — destroyed the Obama crew's strategy of disqualification," said Republican pollster Mike McKenna. "Six months of work and $400 million of ad buys went up in smoke in about 10 days. With less than 340 hours to go, they are having real trouble with their footing."
The debates' effect can be seen in the favorability ratings. At the end of September, ahead of the debates, Mr. Romney had a 44.5 percent favorable rating. But by Monday, when he and Mr. Obama faced off for the third and final time, the Republican's rating had leapt to 50.5 percent.
Tom Jensen, director of Public Policy Polling, a Democratic firm, said Mr. Romney's favorability surge "really has been remarkable" and explains why Mr. Obama has not been able to put away the race at this point.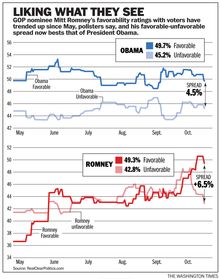 "It was inevitable that Republicans were going to warm up to him once he became their nominee, but ever since his big victory in the first debate his numbers with independents have improved a good deal as well," he said. "We're actually finding in our national tracking now that Romney's favorability numbers are better than Obama's, which no one could have imagined six months ago."
By Tuesday, Mr. Romney's favorability average at Real Clear Politics had dropped below 50 percent again, though he still leads Mr. Obama when it comes to net favorability — the calculation of favorable rating minus unfavorable rating.
Mr. Obama's favorability averaged 49.7 percent, or 4.5 points more than his unfavorable rating. Mr. Romney's favorability was 49.3 percent, or 6.5 points more than his unfavorable rating.
Campaigning in Henderson, Nev., on Tuesday, Mr. Romney said the debates "supercharged" his supporters.
Less than 24 hours earlier, he had delivered a measured performance in a debate that focused on foreign policy.
While pundits complained that he didn't leave much daylight between himself and Mr. Obama on the issues, depriving them of the chance to compare and contrast policies, Republicans said Mr. Romney accomplished something deeper — he made himself a palatable alternative to Mr. Obama.
At one point, he even swatted away an Obama attack by accusing the president of offering little else.
"Attacking me is not an agenda," the Republican said.
He hewed closely to the president's decision-making when it came to action in Syria, Iran and Afghanistan.
Indeed, at one point the president told Mr. Romney that the only difference in their positions was "you'd say them louder."