KIEV, Ukraine — Reports of widespread election irregularities continued to roll in Tuesday as the ballot count from Sunday's parliamentary vote neared its conclusion. The extremist Svodoa Party is virtually assured of having a bloc of seats in the next parliament, further straining relationships between Ukraine and the European Union.
The final official vote tally is not expected before Wednesday.
With 93 percent of the votes counted, President Viktor Yanukovich's Party of Regions retained solid control of the parliament with 31 percent of the vote, well ahead of the Fatherland Party of jailed former Prime Minister Yulia Tymoshenko, which won nearly 25 percent.
That is much closer than the first round of the presidential vote in 2010 when Mr. Yanukovich finished ahead of Mrs. Tymoshenko by 35 percent to 25 percent. In the second round of that 2010 vote, featuring only the top two candidates, Mr. Yanukovich won by 3.5 percentage points.
With the second-place standing, Mrs. Tymoshenko's Fatherland remained Ukraine's main opposition party. Meanwhile, the race for third between the Communist Party, which is often aligned with Mr. Yanukovich, and the independent pro-Western UDAR party headed by boxing champion Vitali Klitschko remained too close to call.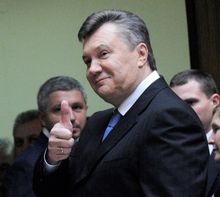 The Svoboda Party, as of Tuesday, has won 10.1 percent of the vote, already more than double the 5 percent threshold needed to gain seats in parliament.
Before the election, Svoboda signed an election pact with Mrs. Tymoshenko's Fatherland, an agreement expected to strengthen Fatherland's hand in parliament but also strain its reputation in the West.
Svoboda, which requires Ukrainians to submit proof of "ethnic purity" before joining the party, has never before won seats in parliamentary.
The party's platform includes instituting a legal preference in politics and education for ethnic Ukrainians, requiring identification documents to include ethnic origins of citizens, reducing international obligations and dramatically lowering taxes.
Some news reports estimate that Svoboda will win about 50 seats in the 450-member parliament, called the Verkhovna Rada.
Svoboda is headed by Oleh Tyagnybok, a charismatic 43-year-old former urologist who repeatedly has used derogatory terms to refer to Jews. Last year, Svoboda activists protested a pilgrimage by thousands of Hasidic Jews marking the Jewish New Year in the city of Uman.
Mr. Tyagnybok, however, denies that his party promotes ethnic hatred.
"Svoboda is not an anti-Semitic or xenophobic party," he told The Associated Press. "Svoboda is a pro-Ukrainian political force."
The success of Svoboda drew swift criticisms from many of the 4,000 foreign election observers who monitored the election. French lawmaker Thierry Mariani denounced the support for Svoboda as "distasteful," and Alex Miller, an observer from the Israeli parliament, called it a "stunning" development.
"What I don't understand is why Svoboda was even given a chance to stand for election," Mr. Miller said. "I understand it can be seen as a question of democracy, but this kind of party should be prohibited."