Michael J. Fox did his part to make the anniversary of 9/11 about helping others.
The actor spent Tuesday participating in the Cantor Fitzgerald's Charity Day, along with a host of other celebrities. Cantor Fitzgerald, the financial firm that lost 658 employees in the attacks on the World Trade Center in 2001, has marked the anniversary of that day by raising funds for charities; this year, more than 100 are expected to benefit.
"This is not necessarily a somber event; I think this is more of a celebration, a celebration of humanity, and an acknowledgment of the needs of the people in the community," Mr. Fox said in an Associated Press interview Monday. "On a day when so many were affected by so few in such a negative way, it's a great way for so few to help the wider community in kind of reverse — the energy of that day, the negative energy of that day, with a positive show of support for the community."
The Michael J. Fox Foundation for Parkinson's research is among the day's beneficiaries. Mr. Fox has been afflicted by the disease for years, is a strong supporter of stem cell research and has lobbied in the District in his battle to eradicate Parkinson's.
"A lot of the needs were met of the people who were affected that day as much as they could be met beyond the lasting feelings that go on forever the fact that it as an impetus to branch out and to help other people in other communities and continue the spirit of generosity, of humanity, I think was really key in moving forward," Mr. Fox said.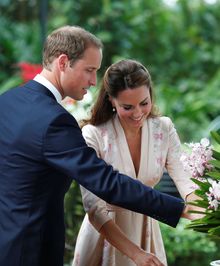 Mr. Fox added that he was grateful for the support from the financial community: "I like to joke that Alex Keaton was the role model for so many of these guys, so maybe they had a special place in their hearts for me and my work," referring to the capitalist-loving "Family Ties" character that made him famous some three decades ago.
Prince William and Kate view Princess Diana orchids
Prince William and his wife, Kate, saw an orchid named for them and another for his late mother, Princess Diana, in Singapore on Tuesday, 15 years after she was to have viewed the flower herself.
Diana was due to visit the white orchid named in her honor in 1997 but was killed in a car crash two weeks earlier.
William stared at its delicate flowers, saying, "It's beautiful, it's beautiful."
The Duke and Duchess of Cambridge's visit to Singapore Botanic Gardens was their first stop on a nine-day tour of the Far East and South Pacific.
Manager Alan Tan Chye Soon said he was preparing for Diana's visit when the car crash occurred.
"It was so sad that she never saw it. It is one of our favorite orchids, and most popular," he said. "It was like William and Kate are fulfilling her promise today."
The royal couple also was shown an orchid with white and purple blooms that is jointly named for them.
Kate wore a pale floral dress to the event. She was carrying an orchid bouquet when she and William greeted staff and spectators at the historic Raffles Hotel later in the day.