✔ Pick of the Pack
Workshop: How to Deal With Deer
For all its amenities, life inside the Beltway is fraught with inconvenience. While some of the area's problems — awful traffic, ridiculous rents, tourists who stand on the wrong side of the escalator — are unlikely to dissipate anytime soon, no problem divides Washington-area residents quite like the deer dilemma. Simply put, D.C. has a deer problem the way New York has a bug problem: They seemingly are everywhere, and no one knows how to get rid of them. Or rather, we do know, but we don't like to talk about it. Years ago, Brookside Gardens in Montgomery County sought to thin a herd of marauding deer with the aide of sharpshooters. Animal rights activists, predictably, raised a bloody row, but the program went ahead. Alas, the population is not quite under control, and due to area gun laws, shooting the deer that wander into your Chevy Chase garden isn't an option. Next week, MoCo's Rob Gibbs — an architect of the county's deer population program — will tell gardeners (and pacifists) how best to address the garden munchers in a workshop and plant swap hosted by the Silver Spring Garden Club.
Monday at Brookside Gardens, 1800 Glenallen Ave., Wheaton, Md.
Phone: 301/588-6894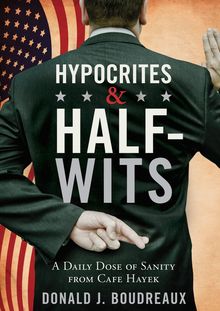 Author talk: 'Hypocrites & Half-Wits: A Daily Dose of Sanity from Cafe Hayek'
Some people say that because the newspaper industry is in decline, it's a waste of breath to argue against the wrong-headed editorial board of a dead-tree product. George Mason University's Donald Boudreaux begs to differ. A leading free-market economist, Mr. Boudreaux writes a daily letter to the editor rebutting silly economic claims and outrageous calls for more government intervention in daily life. He posts those letters to Cafe Hayek, which is what libertarians read to lower their blood pressure. "Hypocrites & Half-Wits" collects the best of Cafe Hayek. Read it, and you'll be that much more prepared when a neighbor or colleague asks whether you read the latest big-government editorial from Paul Krugman and the whiz kids at the New York Times. Or go to the Heritage Foundation, and hear some truth from the man himself.
Wednesday at the Heritage Foundation, 214 Massachusetts Ave. NE
Phone: 202/675-1752
Web: www.heritage.org
Exhibit: Book Hill Gallery Crawl
You've heard of the pub crawl, in which participants race from bar to bar, drinking a beer or three before dragging themselves to the next place, until their feet are sore and their wits are frayed. Nine out of 10 pub crawls end in accusation — "You never did like me" "Quit leering at my wife" — but gallery crawls are another thing altogether. Instead of traipsing from one watering hole to another, participants speed through a series of art galleries in Georgetown's Book Hill neighborhood. The participating galleries in this weekend's event include Addison/Ripley Fine Art, Robert Brown Gallery, Susan Calloway Fine Arts and Heiner Contemporary, with works on display "ranging from Picasso and Barbizon artists to Wolf Kahn, William Kentridge, Alex Katz and Dale Chihuly," as well as more local artists. It's a different kind of buzz altogether.
Saturday at Wisconsin Avenue and Reservoir Road NW
Phone: 202/727-1000