The Rev. Dr. Sun Myung Moon, the leader of the Unification Church and founder of The Washington Times, died early Monday in South Korea. He was 92.
He passed away just before 2 a.m. local time (12:54 p.m. EDT Sunday) from complications of pneumonia at Cheongshim International Hospital outside Seoul, while surrounded by family, friends and followers, according to Unification Church leaders.
A comment was not immediately available from Unification Church International President Hyung Jin Moon, his youngest son and appointed successor of the religious movement. But Rev. Joshua Cotter, vice president of the Unification Church USA, said Sunday that "the Reverend Sun Myung Moon, revered by millions as the Messiah and True Parent, who was born in Korea but who lived more than 40 years in America … has ascended."
In addition to leading the worldwide religious movement he founded in South Korea in 1954, Rev. Moon supported anti-communist causes during the Cold War, promoted international and interfaith peace activities, and strongly advocated a pro-marriage, pro-family culture.
"His vision of sacred marriage, of the formation of ideal families and a world of peace has been taken up by millions of people around the world and a second and third generation of Unificationists," Mr. Cotter said.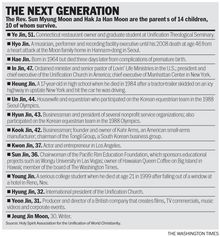 Thomas P. McDevitt, president of The Washington Times, said Sunday that "words cannot convey my heart at this time."
"Rev. Sun Myung Moon has long loved America, and he believed in the need for a powerful free press to convey accurate information and moral values to people in a free world. The Washington Times stands as a tangible expression of those two loves," he said.
After a period of almost two weeks to allow tributes and prepare the body, a memorial service will be held at 10 a.m. Korean time on Sept. 15 (9 p.m. EDT on Sept. 14). The service will be at the Cheongshim Peace World Center in the church's Cheongpyeong complex, about 40 miles northeast of Seoul in Gyeonggi Province.
During Rev. Moon's illness, wife Hak Ja Han Moon urged members not to grieve but "continue on unwaveringly."
"Please take heart that, for us, there is no stopping on the way," she said, according to reports on the church's Tongil Group website.
A visionary businessman and lifelong champion of the free press, Rev. Moon founded newspapers, magazines, electronic media outlets and digital publications in the U.S., Japan, South Korea and many Latin American, African and European countries.
"As controversial as Rev. Moon was in the United States, I got to know him as a man whose heart was focused on bringing together people of different faiths to bridge divides. His call on people of faith to serve others is an important legacy," said Neil Bush, chairman of Points of Light and son of former President George H.W. Bush.
"He will always be remembered as the embodiment of loving and sharing without limits, sacrifice and suffering without limits, courage and service without limits — and all this not for family, race, community or nation, but for humankind as a whole," said Ambassador K.V. Rajan, former secretary of the Indian Ministry of External Affairs.
The energetic evangelist traveled the world numerous times and went on speaking tours as recently as 2011. He started or inspired hundreds of organizations and met with countless world leaders, notably such communist leaders as former Soviet President Mikhail Gorbachev and North Korea's Kim Il-sung. On a trip in July 2008, he and his family survived a helicopter crash in Korea.
But throughout his life, Rev. Moon's teachings and his church's practices sparked criticism, suspicion and persecution. He was jailed six times, and survived numerous beatings and a North Korean labor camp.