Early in the 2012 campaign season, predictions were that a major film would reach theaters in the fall, shine a spotlight on one of the presidential candidates, and possibly influence the outcome of the election.
And that's how it happened, except the movie wasn't "Zero Dark Thirty," the surefire Hollywood blockbuster about the killing of Osama bin Laden that Republicans feared would throw the election to President Obama. That film is now slated for wide release Dec. 19.
Instead, the movie at the center of this year's presidential race is "2016: Obama's America," an upstart independent documentary by conservative author Dinesh D'Souza that has stunned the filmmaking world with its success.
As of last weekend, "2016" had grossed more than $30 million, making it the second-highest-grossing political documentary and fifth-highest documentary of all time. It appears poised to climb still higher, given that it continues to play on 1,876 screens after opening in wide release Aug. 24, according to Box Office Mojo.
While conservative filmmakers have a long way to go before they rule Hollywood, they've become a force to be reckoned with on the documentary side. Dozens of serious documentaries from the right have burst onto the scene in the past decade and, while most have gone straight to DVD, they've achieved a rough parity with their brethren on the left.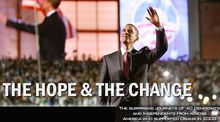 "In terms of what's being produced and released, there is far more ideological balance in documentary films," said Michael Medved, the former film critic turned conservative author and radio host.
Mr. D'Souza sees a simple reason for the success of "2016."
"There is a hunger for information about Obama," he said. "Americans feel that they don't have the full story and the film supplies the missing pieces."
What distinguishes "2016" is its blue-chip bona fides. The film's producer is Gerald Molen, the Academy Award-winning producer behind "Schindler's List" and "Jurassic Park," who gave "2016" the kind of insider clout that most conservative documentaries lack.
"You have two things different here: One is the credibility of Gerald Molen, and, two, they spent a boatload on advertising," Mr. Medved said. "They probably spent more on advertising the film than producing it. There have always been these attempts to break through, but this one really did it."
The film centers on Mr. D'Souza's search for the president's "compass" by examining the president's childhood and relationship with his largely absent Kenyan father. He concludes that Mr. Obama has been heavily influenced by anti-colonialist views that he would have absorbed in Indonesia and Hawaii, and from his father, a leftist academic.
Other conservative filmmakers are hoping the success of "2016" opens doors for them with distributors and theaters. Certainly there is no shortage of such films in the pipeline: On Tuesday, Citizens United released, "The Hope and the Change," another film critical of Mr. Obama, on six cable channels and six broadcast networks, and plans to issue a second documentary, "Occupy Unmasked," in limited release Friday.
Conservatives say they have one man to thank: Michael Moore, who hit it big with a string of liberal documentaries beginning in the 1990s and culminating in 2004's "Fahrenheit 9/11," which made more than $119 million and remains the highest-grossing political documentary of all time.
David Bossie, president of Citizens United, credits the success of "Fahrenheit 9/11" with compelling him to go into show business.
"When I called around Washington, D.C., in 2004, I called my friends, I even called Ed Gillespie at the [Republican National Committee], and I said, 'How do we respond to this?' 'Fahrenheit 9/11' was a 90-minute attack piece on George Bush," said Mr. Bossie. "My thought was, 'My gosh, we have to respond to this,' but nobody I called knew how to make a movie."