CHARLOTTE, N.C. — The uneasy relationship between President Obama and coal-state Democrats is on display at the party's convention this week, with delegates from states such as West Virginia and Kentucky openly acknowledging the president has dug himself a hole.
"He's seen as anti-coal. Some people feel as if the mines aren't operating as fully as they could be" because of federal regulations, said Charlene Marshall, the former mayor of Morgantown, W.Va., and now a state legislator and delegate at the convention.
Ms. Marshall said she thinks the president has, to some extent, gotten a bad rap on the issue, but made no bones about the fact that, across West Virginia, Mr. Obama's Environmental Protection Agency and other federal agencies are seen as mortal enemies of the coal industry.
Mr. Obama's perceived animosity toward coal is widely considered the biggest reason he garnered only 60 percent of the vote in the West Virginia primary election earlier this year.
Keith Judd, a convicted felon serving time in Texas, drew 40 percent.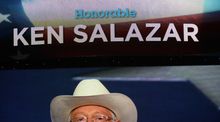 But the tension between the White House and the coal industry is perhaps best exemplified by the sector's labor union, the United Mine Workers of America, deciding to not attend the convention this week. The group endorsed Mr. Obama four years ago, but has remained on the sidelines this time around.
"It's been a difficult environment for us in the last couple of years. We don't feel like our voice is being heard," said union spokesman Phil Smith.
EPA and other regulations — including an effective ban on new coal-fired power plants through impossible-to-achieve carbon-emissions standards — are just one part of the equation. While the Democratic platform now contains a token mention of clean-coal technology, such talk is often absent when Mr. Obama and other administration officials discuss energy policy.
That was the case Tuesday night, when Interior Secretary Kenneth L. Salazar laid out the administration's energy accomplishments over the past 31/2 years.
"Under President Obama's leadership, the U.S. moved forward with an all-of-the-above energy strategy: Oil, gas, nuclear, hydro, biofuels, wind, geothermal, solar — all of it. All of it," he said, making no mention of coal.
Despite that omission, coal is still responsible for generating more than 40 percent of the nation's electricity and will remain a vital part of the U.S. energy portfolio for the foreseeable future.
Like the United Mine Workers, several prominent Democrats from coal regions chose to skip the party gathering this week. Sen. Joe Manchin III, a West Virginia Democrat who made waves with a campaign commercial in which he shoots a copy of Mr. Obama's failed cap-and-trade legislation, isn't here. Neither is West Virginia Gov. Earl Ray Tomblin, whose state still relies on the coal business for tens of thousands of jobs.
Rep. Mark S. Critz, a Democrat representing the western Pennsylvania district seat formerly held by the late Rep. John P. Murtha, is also absent from the convention. Like Mr. Murtha before him, Mr. Critz is a member of the Congressional Coal Caucus.
But some think that Mr. Obama's poor reputation among coal workers will eventually turn around. As the nation begins relying on more renewable fuels, and as the larger economy shifts toward more jobs in technology, the bitterness toward the president may begin to fade, said Vicki Penix, a Burgin, Ky., Democrat and convention delegate.
"As Kentuckians learn more about all of those things, they'll be OK," she said. "But it's going to be slow-moving."