CHARLOTTE, N.C. — When President Obama moved his Thursday night acceptance speech from Bank of American Stadium to an indoor arena, the star-studded entertainment moved with him, giving the fortunate few delegates and special guests an intimate evening with some of the superstars of music.
Not everyone made the move — Earth, Wind & Fire canceled at the last minute, reportedly because of worry the stage at cozy Time Warner Cable Arena wasn't able to handle the act.
But James Taylor kicked off the night with "Carolina in My Mind" to cheers from his hometown following, followed by Marc Anthony's rousing version of "The Star Spangled Banner" and alt-rock band the Foo Fighters before Hollywood starlets Scarlett Johansson and Kerry Washington addressed the crowd.
"This brings the world into a microcosm," said Patricia Jones, a Uniontown, Pa., resident. "You get to feel the different flavors of ethnicity, almost like a good dinner. I think everyone should have the opportunity to do this."
But not everyone did have the opportunity.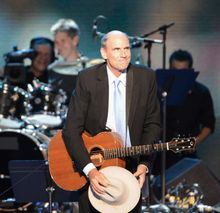 The evening was supposed to be held at the city's 73,000-seat football stadium, with tens of thousands of eager supporters who traveled to Charlotte scheduled to be part of the convention's climactic event.
On Wednesday, though, the Obama campaign changed the venue, with convention organizers blaming the threat of bad weather. Republicans, however, said it was the worry that Mr. Obama wouldn't be able to fill all the seats, as he had in a similar open-air address during the enthusiastic Denver convention four years ago.
Those who did make it in — the delegates and alternates who attended all three days of convention proceedings — were thrilled to get the more up-close-and-personal experience in the 20,000-seat basketball arena.
Waiting for the evening's events to start, Tyler Quick, 21, from Boulder, Colo., listened to music on his headphones and worked on his college thesis.
"It's not a bad deal," he said of his fifth-row seats. "I didn't really expect to be this close."
Ingrid Nurse of Concord, N.C., nabbed a front-row seat, and while Mary J. Blige's backup singers practiced, she danced in her seat and rummaged for her high heels.
"I've gotta get my dancing heels on," the 43-year-old said. "I'm excited. I didn't mind the change, but I wish everyone could be a part of it."
About 20 rows from the stage, Julie Agarwal, a Virginia delegate from Arlington said she "could be in the nosebleed seats and I'd be happy to be here."
"You go to football games, that energy is incredible, " Ms. Agarwal added. "This feeling is so different."
Echoing her sentiments, Doris Crouse-Mays of Richmond said those in the crowd "have to make the energy strong for the people not here."