When lawmakers announce a broad immigration bill this week, they hope to take advantage of a marked shift in the way Americans see illegal immigration, with more voters willing to embrace legalization as a solution.
The bill's sponsors a group of eight senators who have been negotiating the details for months said late Monday that they were postponing the rollout of the bill until Wednesday out of respect for victims of the bombings in Boston.
When the debate does begin in earnest, backers will find a more favorable landscape than they did just a few years ago, when surveys showed that less than half of Americans thought illegal immigrants should be allowed to stay and gain citizenship. Now, support nears 70 percent in some surveys.
---
SPECIAL COVERAGE: Immigration Reform
---
"The main change has been among Republicans, who have come to accept that driving 11 million people out of the country is unrealistic, and that they want to deal with it in a way that makes sure we don't have 11 million more in a decade," said Frank Sharry, executive director of America's Voice, an advocacy group that sponsors polls.
Lawmakers will try to address both sides of that equation in their bill, which four Democratic senators and four Republican senators have been negotiating for months.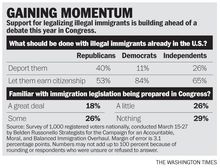 They were slated to introduce the legislation Tuesday, but put it off a day after the bombing at the Boston Marathon on Monday. Still, details are leaking out.
---
SEE ALSO: Immigration draft lays out contentious points plan to reward, select immigrants
---
The Washington Times reported Monday that the legislation will create a points-based system for determining who gets an immigrant visa in the future, and is likely to substantially boost legal immigration numbers overall.
Other outlets have reported on the legalization program, which would grant illegal immigrants who arrived before 2012 an immediate legal status and work right, but would delay a path to citizenship for years.
The Associated Press reported that the bill calls for many illegal immigrants to pay a $2,000 fine and even more in fees, and to wait more than a decade for citizenship rights. But illegal immigrants brought here as children could earn citizenship in half that time.
On Monday, the White House said Mr. Obama could accept a plan that would take 10 to 13 years for illegal immigrants to earn citizenship. White House press secretary Jay Carney said that is "consistent" with the president's priorities.
Still, Mr. Carney cautioned that the White House would withhold support for any legislation until seeing the final language.
Mr. Obama benefited from a surge of support from Hispanic voters last year, and analysts credited his immigration stance for much of that. Exit polling showed that Mr. Obama won 71 percent support from Hispanics, compared with 27 percent for Republican nominee Mitt Romney, who promised a crackdown on illegal immigration.
Since Mr. Romney's election loss, many Republican leaders have argued that the party needs to take a softer line on illegal immigration and polling suggests rank-and-file Republicans have shifted that direction.
Public support will be critical. Many lawmakers who were part of the failed effort to pass a bill in 2007 say the legislation became doomed when irate voters shut down the Senate switchboard to complain about proposed legalization.
Backers say this time is different.