Housing has emerged as the brightest spot in the economy this year, but some analysts are questioning whether the market's recovery is built to last.
Home prices, sales and construction have increased sharply in the past year after six years of relentless declines, suggesting a classic recovery and adding fuel to a broader economic expansion. For the first time since the Great Recession, the housing sector started adding jobs in areas such as construction over the past few months in a sign of a dramatic market turnaround.
But a close look at the numbers reveals that much of the housing activity is driven by abnormal conditions stemming from the housing crisis.
Much of the pickup in sales and prices has been powered by investors who, convinced that the market is bottoming, are scooping up bountiful supplies of distressed and foreclosed properties at bargain prices and often paying with cash.
With investors targeting lower-priced homes that they intend to purchase and rent out, they have been crowding out many first-time buyers who are having difficulty getting mortgage loans and are at a disadvantage when competing with well-heeled buyers. Cash sales to investors now account for about one-third of all home sales, according to the National Association of Realtors.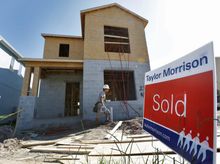 Although rock-bottom interest rates on mortgages and low home prices undoubtedly remain strong attractions, traditional buyers are encountering other formidable obstacles.
Mortgages are difficult to obtain because banks want to lend only to the most creditworthy customers and are demanding down payments of at least 20 percent on any loan that doesn't have government backing.
Homeowners who are underwater or close to it can't come up with down payments of that size, while first-time buyers may have to save for years to come up with the cash if they don't get help from relatives or friends.
"The recovery in housing prices seems to be disconnected from traditional economic drivers," said Christopher Whalen, managing director at Carrington Investment Services, who estimates that about one-third of Americans who would have qualified for mortgages in 2006 can't get them today. People of ordinary means, unlike investors, can't buy homes without credit because they hardly have the cash for down payments much less the entire costs of the properties.
Political leaders and investors need to take note, he said.
"The weak rate of participation by homeowners in the home price rebound is a concern, and one which is underscored by the lack of bank credit creation" since the recession. "In a normal housing cycle, the creation of new home mortgage credit would be growing in tandem with rising home prices, but the current rebound is anything but normal."
Spot shortages
For buyers who are able to overcome the credit obstacles and enter the market, other hurdles await.
Many are encountering shortages of homes for sale in the District and some other areas, but not for reasons characteristic of a healthy market. Home prices are 30 percent below their 2006 peaks in most regions, leaving nearly one-quarter of homeowners underwater on their mortgages and unable to sell their homes without losing money.
The shortages of homes for sale in the most desirable neighborhoods may give the appearance of robust conditions, with buyers queueing up to make bids, but analysts say appearances are deceptive.