Secretary of Defense Chuck Hagel has included Egypt on his first trip to the Mideast in his cabinet role, a subtle message of the White House's concern to maintain strong ties with the Muslim Brotherhood-backed government, political insiders say.
Mr. Hagel first met with leaders in Israel, Jordan and Saudi Arabia. On Wednesday, he headed to Egypt with face-to-face meetings with that nation's top leaders, including President Mohammed Morsi, CBS reported.
The talks were aimed at emphasizing America's close military relationship with Egypt. Though Egypt was the first of the Arab countries to enter into a peace treaty with Israel, the U.S. is nonetheless worried over the country's ongoing divide that has pit opposition forces against a growing influential Muslim Brotherhood, CBS said.
The big concern, CBS reported: That the divide will escalate and lead to more uprisings that spread throughout the Sinai Peninsula.
Hints of such uprisings have grown stronger.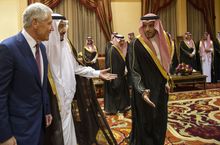 On Tuesday, Mr. Morsi's legal adviser resigned over what he described as the Muslim Brotherhood's monopoly on decision-making for the government, CBS reported. Mr. Morsi denied his decisions came at the demand of the Brotherhood, in various interviews.