Maryland's House of Delegates on Wednesday passed a package of gun restrictions making its laws among the toughest in the country and reinforcing what analysts say is a trend toward states with strict gun regulations passing laws making them stricter.
The state joins California, Colorado and New York in adopting significant measures to regulate guns this year, even as Connecticut passes harsh new weapons restrictions of its own in the wake of the Sandy Hook Elementary School mass shooting in December.
The bill passed the heavily Democratic House on a 78-61 vote without the support of any of the chamber's 43 Republicans, who voted in lockstep against the package. They were joined by 18 Democrats who broke ranks to oppose the measure. Two Democrats were absent for the vote.
---
SPECIAL COVERAGE: Second Amendment and Gun Control
---
The legislation preserves the major components of the proposal by Gov. Martin O'Malley that passed the Senate last month. It limits handgun magazines to no more than 10 rounds, prohibits 45 guns under an assault weapons ban, and requires residents to obtain a license for a gun. Prospective buyers will also have to submit their fingerprints as part of the application process.
"As states that have this show, when handgun purchasers have to get a fingerprint license through the state police, they are much less likely to buy guns for criminals," said Vincent DeMarco, president of the Marylanders to Prevent Gun Violence. "These straw purchases are one of the main ways criminals get guns."Maryland joins Connecticut, Hawaii, Massachusetts, New York and New Jersey as the only states that have a fingerprint law.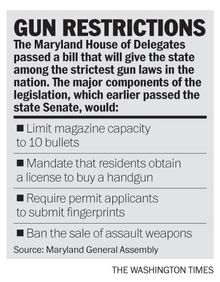 The assault weapons ban provides a clause that grandfathers people who own or purchase their firearms before the law takes effect in October.
---
SEE ALSO: Co-sponsor of bill banning high-cap magazines stumbles over how they work
---
The House bill adds some changes from a bill that passed in the Senate last month, such as including a controversial requirement that a gun owner reports within 72 hours when a weapon is lost or stolen or face penalties. It also would ban gun possession for anyone sentenced to probation before judgment for a violent crime.
It wasn't immediately clear whether the Senate would accept the House changes. The chambers have until midnight Monday to iron out their differences before the end of the legislative session.
Despite cheers and applause after the vote was announced, the bill was not without its critics. House and Senate committee debates over the bill drew hundreds of protesters to Annapolis and created marathon hearings dominated by testimony from the bill's opponents.
Some view the legislation as unfairly painting guns as the problem, rather than the people who commit the crimes.
"We never blame cars for killing people when they're driven by drunk drivers or out-of-control pop stars," said Delegate Justin D. Ready, Carroll Republican. "Vehicles kill more people in this country than anything else, but no reasonable person would ever suggest that we should ban vehicles based on how they look, even when there are some that maybe have a higher propensity to, say, flip over."
Mr. O'Malley, a Democrat, announced the sweeping proposal in mid-January, about a month after 20-year-old Adam Lanza used a high-powered assault rifle to kill 20 first-graders and six adults at the Connecticut school. Even before the victims' funerals were scheduled, President Obama and members of Congress were calling for stricter gun laws. Despite the sense of urgency initially felt on Capitol Hill following the shootings, momentum has slowed at the federal level and stalled in many states amid fighting among gun-rights and gun-control advocates.
Analysts say the number of gun-related bills introduced into state legislatures in the four months since the Newtown shooting soared from previous years. During the first quarter of 2013, legislation proposed to strengthen firearms increased by 231 percent compared to all of last year, according to figures compiled by the Law Center to Prevent Gun Violence. Bills that would loosen gun laws also increased, but by 67 percent.
"I think it does reflect the public's mood," said the group's senior staff attorney Laura Cutilletta said. "The public has become much more mobilized about this issue. I think this is a long process. It would be wonderful to see a change in one legislative session, but I think it will take longer than that."
Last month, Colorado passed a law banning large capacity ammunition magazines and imposing background checks for private sales. The laws passed after a mass shooting in a movie theater in Aurora, Colo., in July in which a gunman killed 12 people and injured dozens more. The vote followed weeks of intense political wrangling and came after a flood of activists descended on the Capitol to protest the proposed bans.