TEHRAN — Iran's rulers are nervous as they prepare for elections in June and hope to avoid the massive street protests that followed the disputed presidential ballot in 2009.
The reformist opposition is calling for free elections, and other critics are accusing the theocratic regime of planning to steal the vote.
For three months, authorities have been cracking down on dissent in anticipation of the June 14 elections.
In February, police arrested 19 journalists working for reform-minded media. On March 6, Intelligence Minister Heydar Moslehi announced that his ministry had identified a group of 600 "seditious" journalists and "dealt them a blow."
About two weeks later, authorities detained reformist politician Hossein Loghmanian and four associates en route to a meeting with former President Mohammad Khatami, a reformist. The authorities also have shut down most of the private computer networks that allow Iranians to circumvent Internet censorship.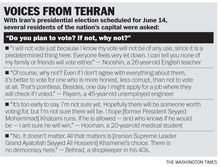 A recent communique from the Intelligence Ministry provides insight into the regime's paranoia and the Orwellian lengths to which it is willing to go.
On March 23, the ministry sent to an Education Ministry a set of 23 instructions to issue to citizens. In them, Iranians were encouraged to report any interactions with foreigners who ask "general" or "work-related" questions. The ministry warned people not to believe or spread the "rumors" of "the enemy's media" and cautioned them to beware of "suspicious" phone calls asking for "special news."
The ministry also reminded Iranians that hoarding weapons and explosives is illegal.
Gov. Isa Farhadi of Tehran Province boasted that Election Day security will be tight, with 99 battalions of the brutal Basiji militia to be mobilized, alongside the regular police.
The greatest bombshell regarding the upcoming elections came from the Islamic Revolutionary Guards Corps, in an order many saw as clear evidence of plans for vote-rigging.
On Jan. 8, Hojatoleslam Ali Saeedi, the supreme leader's envoy to the elite military unit, said: "A reasonable and logical engineering of the elections, however, is the inherent duty of the [Revolutionary Guards]."
The opposition was outraged.
The election "shouldn't be spoken about in such a way that the people feel that the election is merely ceremonial," said Hassan Rowhani, a moderate who has declared his intention to run for president.
Maverick conservative lawmaker Ali Motahari warned: "If these policies continue and if the opposition and critics cannot participate, then not many people will take part and it will be a 'formality' election."
Another danger for the regime is a possible rebellion by the current president, Mahmoud Ahmadinejad, who cannot run again because of term limits.