Egyptian security forces used armored cars, bulldozers, tear gas and automatic weapons Wednesday to clear two protest camps in Cairo set up by Muslim Brotherhood supporters of ousted Islamist President Mohammed Morsi, causing hundreds of casualties and at least 149 deaths.
The government said at least 149 people had been killed and more than 1,400 injured. Sky News says cameraman Mick Deane was shot dead in the violence, The Associated Press reported.
The smaller of the two camps, at Nahda Square near Cairo University, was cleared within hours, The New York Times reported. But protesters at the larger camp around the Rabaa al-Adawiya mosque in the northeastern suburb of Nasr City were still battling mid-morning — under siege by far greater numbers of police.
---
PHOTOS: Inside the violence in Egypt
---
Egypt's interim government issued a statement expressing sorrow over the bloodshed. Speaking on state-run TV, a spokesman said the government blamed the Muslim Brotherhood "for any blood spilled" and urged protesters to refrain from using violence, the BBC reported.
Authorities will not stand for any attempts to attack state buildings and police stations in the wake of the long-anticipated crackdown, the spokesman warned.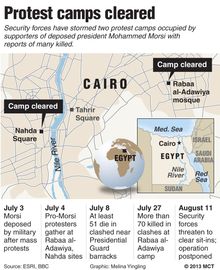 Officials have long warned that they would move to break up the protest camps, and protesters have been bracing for the assault. The Times reported that some were throwing Molotov cocktails and broken paving stones, while military snipers targeted protesters.
---
SEE ALSO: Sky News says cameraman shot dead in Egypt
---
There were widely varying reports about casualties. Western reporters at several morgues and hospitals saw dozens of dead protesters with gunshot wounds to the head and chest — indications that authorities were shooting to kill.
Muslim Brotherhood leaders said hundreds had been killed by indiscriminate fire from soldiers and police; the authorities said about a dozen were dead, including two police officers.
Wednesday's events seemed likely to widen division between supporters of the Brotherhood and secularists and religious minorities who largely supported the military's July 3 ouster of the Brotherhood-supported Mr. Morsi, following mass protests against his rule.
The Egyptian Initiative for Personal Rights, a human rights groups, said the crackdown already had spurred attacks by Brotherhood supporters against Coptic Christian churches in southern Egypt, The Times reported.