Skeptical Republicans and hopeful Democrats alike brushed aside the glowing report card on repairs to HealthCare.gov issued by the Obama administration Sunday, with lawmakers on both sides acknowledging the president's team has tougher work ahead.
The Department of Health and Human Services said Sunday that it met the Dec. 1 deadline imposed by President Obama to fix major glitches plaguing HealthCare.gov. since the website's nationwide debut two months ago.
Jeff Zients, a management consultant tapped by the White House to oversee the repair effort, said traffic on HealthCare.gov has increased.
---
SEE ALSO: Broken promise of Obamacare to haunt Democrats' congressional campaigns
---
"HealthCare.gov, on Dec. 1, is night and day from where it was on Oct. 1," Mr. Zients said in a Sunday conference call with reporters.
But lawmakers — even Democrats — were wary.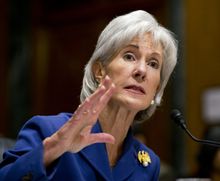 "Clearly, the rollout has been a disaster, and it's still a work in progress," former Sen. Evan Bayh, Indiana Democrat, said on "Fox News Sunday."
---
SPECIAL COVERAGE: Health Care Reform
---
The website faces its toughest test yet as consumers who encountered early problems return to HealthCare.gov before the Dec. 23 enrollment deadline to gain coverage by Jan. 1. Whether the website can handle another rush of users remains an open question.
Mr. Bayh said "the jury is still out" on the program's long-term prospects but added, "First impressions tend to be lasting, so it's going to take some time in the court of public opinion to turn this thing around.
"There are going to be more dislocations coming," said Mr. Bayh, who voted for the Affordable Care Act. "Co-pays may go up, your doctor bill may go up, people may have their coverage dropped and have to go on the exchanges. That's going to be disconcerting, so short term: troubling. It may be really problematic for the 2014 midterm elections."
Former Rep. Jane Harman, a California Democrat who also voted for the bill, was more optimistic. "The rollout has been a mess, it's hopefully better today, but what will matter is in six months or whatever the right time frame is: Will there be enough people across the spectrum from sick to healthy in the exchanges to create a competitive market so that the price of health care is affordable to those who have very little or no money?" she said on "Fox News Sunday."
She added, "I'm betting that it will work."
Former Vermont Gov. Howard Dean, a Democrat, cited the Massachusetts health care reform signed into law by Gov. Mitt Romney, a Republican, as an example of an effective program.
"This is not from my point of view an ideal plan, but this is what passed the Congress and this is the law, and Romney did something very similar in Massachusetts, and it's worked very well," Mr. Dean said on CNN's "State of the Union." "I think we ought to make this thing work."
A CNN/ORC International poll released Friday found that 59 percent of Americans surveyed agreed that "things are going badly," up from 53 percent in September and 50 percent in April.
Mr. Dean said speculation that the poll numbers reflect on Mr. Obama's competence is "nonsense."