The sign language interpreter who stood beside some of the world's top leaders to interpret their memorials of Nelson Mandela for the hearing-impaired has been accused by outraged deaf individuals of being a fake.
They say the man was simply making up hand signals, The Daily Mail reported.
Braam Jordaan, a deaf South African who's on the board of the World Deaf Federation, said the interpreter did a poor job of interpreting President Obama's speech — so poorly, in fact, that he must have not had a clue about what he was doing.
"The structure of his hand, facial expressions and the body movements did not follow what the speakers was saying," Mr. Jordaan said, to SBS news. "I was really upset and humiliated. He made up his own signs."
Mr. Jordaan called the so-called interpreter's display a slap in the face to Mr. Mandela's followers.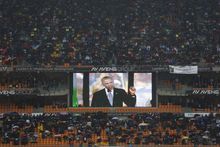 "What happened at the memorial service is truly a disgraceful thing to see," he said, The Daily Mail reported. "It should not happen at all. What happened today will be forever aligned with Nelson Mandela & Deaf Community, thanks to this fake interpreter."
Mr. Jordaan's view was shared by others.
A blogger to The Limping Chicken, the leading United Kingdom Internet outlet for the deaf community, wrote: "The 'interpreter' signed in a way I've never seen before, a strange repetitive rhythm to his movements — his signs appearing to come in threes or fours, occasionally swinging his shoulders as if he was singing along with an intermittent beat. Most puzzling, the structure of his hand and body movements didn't seem to change, no matter what the speaker was saying."
And one more criticism, from a Cape Town sign language teacher, who tweeted about the interpreter: "Please get him off this is an embarrassment, no signs make sense, he is moving his arms try to look busy," The Daily Mail reported.