A half-billion-dollars can buy 23 million Christmas trees, 1.5 million iPads, or fund the building of a third shopping center at Tysons Corner — all it takes is six numbers and a lot of luck.
Lottery officials on Tuesday raised the Mega Millions jackpot to $636 million — the fourth-largest jackpot of all time — but with a day of sales before the drawing and both lottery veterans and holiday hopefuls flocking to ticket counters, what happens next is anyone's guess.
"We've never had a jackpot over a half-billion dollars the week before Christmas," said Paula Otto, Virginia Lottery executive director and lead director of the Mega Millions Consortium. "We're not sure if all the holiday shoppers will help sales or if they'll be more focused on getting final gifts. It could go either way. But being right before the holiday we think is a good thing."
---
SEE ALSO: Just how have lottery jackpots risen so high?
---
Judging by the long line at the D.C. Lottery site in Union Station, Ms. Otto's sentiments are shared by many people.
"I'd buy a sports team, probably a hockey team because I'm a big hockey fan," said Nick Desloge, 25, as he reviewed his tickets before putting them in his wallet. "I'd buy a few houses, a share of a plane, and also give money to my family members who want to go to college."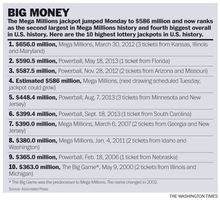 The lump sum cash option is $341.2 million after taxes, though that number could shrink if more than one person matches all five numbers and the golden Mega Ball.
If no one hits the jackpot Tuesday, the prize for Friday's drawing will be $950 million with a $509.6 million cash option, lottery officials said.
"We are hearing people talk about the holidays and how the holidays would be even better if they won," Maryland Lottery spokeswoman Erica Palmisano said. "People are definitely getting excited."
As they waited for their train back home to Delaware, Joe Bea, 64, his wife, Ursula Bea, 66, and brother-in-law Richard Bea, said they purchased tickets with the hope of being able to quit their jobs and travel.
"My first phone call would be to my boss," Richard Bea, 55, said with a laugh. "But no one would know about this until after the new year."
"I'd like to travel," Joe Bea said, his wife nodding her head in agreement.
"I don't think I'd buy a house," she added. "Everywhere I went I'd just rent the nicest place to stay."
Ms. Otto said that for Friday night's drawing, in which the jackpot rolled over to today, about 50 percent of the roughly 256 million combinations were played, meaning "it will probably be 65 to 70 percent, or it could be higher."
"We don't know for sure until the sales close," she added.
The Mega Millions drawing is one of two large multistate lotteries. It's played in 43 states, along with the District and the U.S. Virgin Islands. The other lottery is Powerball, and both drawings have in recent years rolled over historic jackpot prizes.