Montana Senate candidates are alarmed that Sen. Max Baucus' sooner-than-expected departure could turn next year's election into a coronation for the Democrat appointed to fill his seat.
Mr. Baucus, a Democrat, was planning to retire after 36 years in the Senate, but President Obama nominated him Friday to be ambassador to China. If Mr. Baucus is confirmed and assumes the post before the November election, Gov. Steve Bullock, a Democrat, would choose an interim senator to fill the vacancy.
Speculation is rampant that the governor would select Lt. Gov. John Walsh, who is seeking the Democratic nomination for Senate, but that scenario is receiving strong resistance in Montana from Democrats and Republicans.
"The seat has been in one person's hands since 1978," said Bob Brigham, senior adviser for former Lt. Gov. John Bohlinger, who also is seeking the Democratic nomination. "We don't want Washington, D.C., to use backroom deals to force someone on us. Let the people decide who should fill this seat."
The interim senator would need to win the Nov. 4 election in order to retain the seat, but having Mr. Walsh run as an incumbent presumably would provide a boost to Democrats, who may need every edge they can get.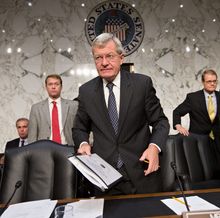 So far, the front-runner is Rep. Steve Daines, a Republican who leads Mr. Bohlinger and Mr. Walsh by double digits in hypothetical matchups, according to a Nov. 19 survey by Public Policy Polling.
Democrats are increasingly worried about retaining Senate control in an election season that now favors Republicans. Democrats control the Senate by 53-45, with two independents, but Democrats have more to lose: They hold 21 of the 33 seats up for election.
Incumbency would give Mr. Walsh a great advantage if it allows him to avoid a contested Democratic primary in June, but Mr. Bohlinger isn't about to go quietly. His campaign adviser says he is staying in the primary race whether Mr. Walsh is named or not.
University of Montana political science professor Robert Saldin said Democrats should be careful what they wish for.
"I do think it's a double-edged sword if [Mr. Walsh] gets appointed," said Mr. Saldin. "Everyone who says this is a game-changer is off base. I'm kind of skeptical that this is such a great thing for Walsh, and I'm skeptical of the notion that this upends the dynamic of the campaign."
Neither the governor nor Mr. Walsh has commented publicly on the appointment speculation.
Other Democrats and Republicans are calling for Mr. Bullock to name an interim caretaker who would not seek the nomination. Suggestions include former Rep. Pat Williams and former Gov. Brian Schweitzer, both Democrats.
Mr. Williams, who served nine terms in the House before his retirement in 1997, says he's game. In interviews with Montana media, Mr. Williams, 76, said he would like the governor to appoint a replacement who understands Congress and would agree not to run for the seat in November.
"I have both of those qualifications, and I can't think of another Montanan who does," Mr. Williams told the [Helena] Independent Record.
The last time this happened in Montana, it didn't work out for the appointee. In 1978, Democrat Paul Hatfield was named to fill the vacancy left by the sudden death of Sen. Lee Metcalf. A few months later, Max Baucus, then a member of the House, trounced Mr. Hatfield in the Democratic primary by 65 percent to 19 percent.