The Pentagon has loosened its guidelines on avoiding civilian casualties during drone strikes, modifying instructions from requiring military personnel to "ensure" civilians are not targeted to encouraging service members to "avoid targeting" civilians.
In addition, instructions now tell commanders that collateral damage "must not be excessive" in relation to mission goals, according to Public Intelligence, a nonprofit research group that analyzed the military's directives on drone strikes.
"These subtle but important changes in wording provide insight into the military's attempts to limit expectations in regards to minimizing collateral damage and predicting the lethal effects of military operations," Public Intelligence said in a recent report.
The number of civilian casualties caused by U.S. drone strikes is a point of contention among Washington, human rights groups and countries where strikes are conducted, chiefly Afghanistan, Pakistan, Libya, Yemen and Somalia. Because the strikes are classified operations, the U.S. typically does not acknowledge when they occur, or reveal how many combatants and civilians are killed or injured.
An official for the Air Force — the service primarily tasked with carrying out drone strikes — said "tactical directives have changed a number of times over the years to tackle collateral damage concerns not only from aircraft and helicopters but from mortars and other weapons that deliver effects beyond line of sight."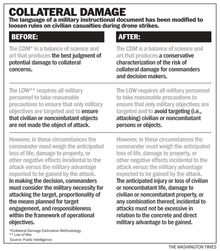 The official, who requested anonymity to discuss security matters, declined to say how the directives have changed or what the collateral damage concerns are, citing "operational security."
Military officials, however, said the Joint Chiefs document is one of several that instruct commanders on conducting drone strikes, as well as theater-specific rules of engagement and the overarching Law of Armed Conflict.
The October 2012 document was published on a Pentagon website several months ago but has since been removed, said Public Intelligence founder and editor Michael Haynes, who obtained and analyzed the documents.
A military official confirmed that the document is being used, among others, to provide guidance for drones.
Human rights groups say such secrecy prevents scrutiny and accountability for civilian casualties. Amnesty International and Human Rights Watch have released reports focused on Pakistan and Yemen that say the strikes could be illegal and that the U.S. has killed more than 4,700 people, including more than 1,000 civilians.
Administration officials say the strikes are legal because the U.S. is at war with al Qaeda and its associates. They also insist there is a wide gap between the government's civilian casualty count and those of human rights groups.
"Before any strike is taken, there must be near-certainty that no civilians will be killed or injured — the highest standard we can set," President Obama said in a rare acknowledgment of the strikes in May 2013.
Public Intelligence conducted a word-for-word analysis of an instructional document from the chairman of the Joint Chiefs of Staff titled "No-Strike and the Collateral Damage Estimate Methodology," which was provided to the American Civil Liberties Union in 2009, and a version of the document that was updated in October 2012. The ACLU filed a Freedom of Information Act request to obtain the 2009 version, which is posted on its website.
The 2009 version directs military personnel to take reasonable precautions to ensure that civilians are not targeted in attacks; the 2012 version says service members should "avoid targeting" civilians.
"A requirement to 'ensure' that civilians are not the subject of attacks is changed to an admonishment to 'avoid targeting' civilians," Mr. Haynes said.