DENVER — Gun-rights advocates pulled off a coordinated 50-state protest over the weekend with little time and even less money, but their adversaries in the gun-control movement were unimpressed.
Critics of the Guns Across America national rally took to social media within hours of the Saturday event to contrast the event with shootings occurring the same day, notably a mass murder near Albuquerque, N.M., that left five dead.
"In addition to the shootings at gun shows yesterday, the 1st 'Gun Appreciation Day' concluded w/ a gruesome mass shooting in #NewMexico," said the Coalition to Stop Gun Violence in a Sunday post on Twitter.
Gun owners argue that such lawless attacks only underscore their argument. Under President Obama's proposed gun restrictions, they say, criminals would still find a way to obtain firearms, but law-abiding citizens would find it more difficult to defend themselves.
"In the hands of law-abiding citizens, guns will not be used to commit evil against other law-abiding citizens," said Bonnie Rider of Pueblo, Colo., who spoke at the Guns Across America-Colorado rally in Denver. "Criminals and the mentally deranged will continue to use gun-free zones as their killing grounds."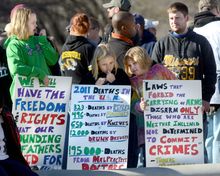 Thousands of protesters rallied at state capitol buildings in all 50 states in a mass demonstration aimed at countering the president's proposed firearms restrictions. Guns Across America reportedly was initiated by Eric Reed, a Texas airline pilot who launched the idea through Facebook and other social media.
The rallies were organized by unpaid volunteers and had a distinctly low-budget feel. At the Colorado rally, for example, organizer Don Dobyns repeatedly asked demonstrators to chip in a few bucks to cover the cost of the portable toilet rental.
The crowds ranged from about 2,000 in New York and Oregon to about 80 in South Dakota, according to news reports. New York Gov. Andrew Cuomo was targeted for criticism after signing a gun-control measure last week billed as the toughest in the nation.
"This was an abuse of power by a man who wanted to be president but now never will," said New York Assemblyman Steven McLaughlin, referring to Mr. Cuomo, a Democrat.
The effort was spurred by Mr. Obama's proposed gun-control plan, which includes reinstating bans on assault weapons and high-capacity ammunition magazines, and requiring background checks for all gun purchases, including private sales.
The president's effort, including 23 executive orders, came in response to recent mass shootings, notably the December massacre at Sandy Hook Elementary School that left 26 dead, including 20 first-graders.
"The thing that so angers me, and I think so angers you, is that this president is using children as a human shield to advance a very liberal agenda that will do nothing to protect them," said Texas Republican state Rep. Steve Toth at the Austin rally.
This article is based in part on wire service reports.