The crowds weren't as big as they were four years ago, but hundreds of thousands of enthusiastic spectators flocked to Washington for Monday's inauguration, where they braved chilly temperatures and heavy security to witness the ceremonial start of President Obama's second term.
Attendees came from far and wide, with some making the trip on foot from their D.C. homes and many others flying in from across the country.
Spirits were high among revellers, many of whom counted themselves as supporters of the Democratic president, as they took in a day of pageantry that featured patriotic music, Mr. Obama's swearing-in and speech and a parade and presidential motorcade along Pennsylvania Avenue.
"I think there's energy, and people are quite optimistic," said John Coombs, 46, a Brooklyn, N.Y., resident who was attending his first inauguration. "I can see hope on everybody's faces."
Visitors to the District swarmed the city over the weekend, sightseeing and attending concerts, galas and other events leading up to the inauguration.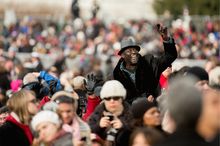 Many first-time attendees said the chance to see a U.S. president sworn in was too rare an opportunity to pass up, and that it was well worth having to brave the crowds and stand in lines.
"I've watched them on TV, but it's nothing like actually being here and seeing all the different kinds of people," said Audrey Black-Tureaud, 53, of West Palm Beach, Fla.
Marissa Joseph, 26, of New Iberia, La., said seeing Mr. Obama's inauguration was even more meaningful this year, as the ceremony came on the national holiday honoring the Rev. Martin Luther King.
"Just being here and being able to hear him is amazing," she said. "All those people who fought for us to be here, I'm witnessing the fruits of their labor."
Local authorities were expecting as many as 700,000 people on the Mall, paling in comparison to the record 1.8 million people who saw Mr. Obama take the oath in 2009 as the nation's first black president.
The Associated Press reported that a D.C. government official suggested a turnout of as many as 1 million people. Chris Geldart, who directs the city's Homeland Security and Emergency Management Agency, said early and unofficial estimates based on aerial views of how the crowd filled sections of the Mall were much higher than the projected crowd.
The turnout was more than enough to jam security checkpoints and stretch the city's transit system.
Metro officials reported that travel Monday was heavy but significantly smoother than four years ago, with ridership at 538,000 as of 4 p.m. — about two-thirds of the 807,000 who had traveled Metro by that point on Inauguration Day 2009. The stations jammed again as people left the downtown area, and four stations were closed in the afternoon because of crowding.
Several parking lots and garages filled early. Metro officials by mid-morning said no spaces were available at seven stations across the area.
Checkpoints at the Capitol were jammed, but security personnel moved people through quickly.