CAIRO — Egypt's security deteriorated sharply Tuesday as violent clashes in Cairo and elsewhere raised questions about the ruling Islamist party's control of the country, which the army chief said is in danger of collapse.
In Cairo, a mob ransacked the five-star Semiramis Hotel, while thousands of mourners in a funeral procession for six slain protesters in Port Said called for the ouster of President Mohammed Morsi, a member of the ruling Muslim Brotherhood.
At least 60 people have died in clashes since Friday, while thousands of protesters defied a curfew Monday night, leading to concerns about the Brotherhood's control of the situation. In the two years since the start of the Arab Spring revolution that ousted longtime dictator Hosni Mubarak, political unrest has heightened, the economy has turned sharply downward and tourism has waned significantly.
"The continuing conflict between political forces and their differences concerning the management of the country could lead to a collapse of the state and threaten future generations," Defense Minister Abdel-Fattah el-Sissi, who also heads the army, said in a Facebook post.
In Washington, White House press secretary Jay Carney said the administration is "closely monitoring" developments in Egypt — a posture critics say has helped transform the Arab Spring into a bloody and chaotic Arab winter.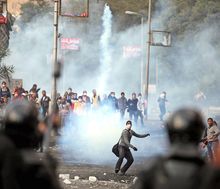 Mr. Obama has resisted calls by Republicans in Congress to delay military aid to Egypt as leverage for democratic reforms.
James Phillips, a senior fellow on Middle Eastern affairs at the conservative-leaning Heritage Foundation, said Mr. Morsi is playing the Obama administration, accepting U.S. aid while ignoring calls to improve his country's human rights record.
Mr. Phillips said the Obama administration's policy in Egypt is "potentially disastrous" because it rests on the Muslim Brotherhood behaving "like a genuinely democratic political party." He also said the developments in Egypt are linked to the expansion of Islamist extremism in the sub-Saharan region of Africa.
During an appearance on "60 Minutes" Sunday with Secretary of State Hillary Rodham Clinton, Mr. Obama boasted about his policy results there.
"You know, when it comes to Egypt, I think, had it not been for the leadership we showed, you might have seen a different outcome there," said Mr. Obama, who behind the scenes actively supported Mr. Mubarak's ouster.
Lawrence Korb, a national security analyst at the liberal-leaning Center for American Progress and a former Pentagon official in the Reagan administration, said Mr. Obama has no choice but to try to work with Mr. Morsi.
"Once they got rid of Mubarak and had an election, he was the person, for better or worse," Mr. Korb said. "We have followed the right path. [Mr. Morsi] was legitimately elected. We have continued aid, but we've said, 'If you abuse your population in any way, we'll cut it off.'"
Mr. Korb pointed to Mr. Morsi's role in brokering a cease-fire between Hamas and Israel last year as evidence that Mr. Obama's approach is the correct one.
Some Republican lawmakers have urged Mr. Obama to suspend military aid, citing for starters an episode last spring in which the Egyptian government brought charges against foreign aid workers there, including the son of U.S. Transportation Secretary Ray LaHood and five other Americans.
Those calls intensified after Egyptians attacked the U.S. Embassy in Cairo in September, while terrorists were attacking a U.S. compound in Libya and killing four Americans.