It is the largest civilian agency in the U.S. government, boasts a $59 billion annual budget and more than 240,000 employees, and has responsibility for a range of matters such as immigration, border protection and airport security.
Yet four of the top jobs at the Department of Homeland Security have been vacant since late last year, and one position — inspector general — has been vacant for 2 years.
In all, Homeland Security soon will have 15 key vacancies once John Morton, director of Immigration and Customs Enforcement, leaves at the end of this month, and Secretary Janet A. Napolitano departs in September.
---
PHOTOS: Dzhokhar Tsarnaev manhunt photos: The amazing police pictures
---
The vacancies at the top could affect everything from airport screening to the Secret Service, but they are likely to be felt most keenly in immigration, where in addition to ICE, the department's two other key agencies, Customs and Border Protection and Citizenship and Immigration Services, will be without confirmed leaders.
"Frankly, it doesn't matter what is in the [immigration] bill because there's no one to enforce it," said Janice L. Kephart, a national security researcher at the nonprofit Center for Immigration Studies.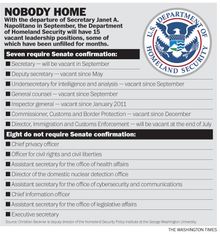 Neither the White House press office nor Homeland Security's public affairs office responded to requests for comment on the vacancies or Obama administration's delay in filling them.
---
PHOTOS: Pope Francis' terrifying security breakdown during his Brazil trip
---
But analysts said leaving acting officials in place is no way to run a department.
"In general, temporary personnel [in leadership posts] means people are reluctant to make long-term decisions" because they don't know what the attitude toward them of the incoming long-term leader will be when they arrive, said Jessica Zuckerman, a homeland security policy analyst at the Heritage Foundation.
In the near term, as Congress negotiates on an immigration bill, not having confirmed leadership means there will be fewer avenues for the administration to oppose unrealistic security targets, said Ms. Kephart, a former special counsel on immigration issues for Republicans on the Senate Judiciary Committee.
Since his second term began seven months ago, President Obama has made only one nomination, leaving seven of the department's 18 Senate-confirmable jobs either vacant or about to be so, according to the Congressional Research Service.
Eight other key positions not requiring Senate approval, such as chief information officer and chief privacy officer, also are vacant or filled by temporary officials.
The one nomination Mr. Obama has made is to elevate Alejandro Mayorkas, head of Citizenship and Immigration Services, to be deputy secretary. If confirmed, that would leave CIS without a director. Customs and Border Protection has been without a commissioner since December, and ICE is losing Mr. Morton.
"If enough positions are open for a long enough period of time, it can lead to significant operational and management risks," said Christian Beckner, deputy director of George Washington University's nonpartisan Homeland Security Policy Institute. "I am afraid that the Department of Homeland Security is now at the point where it is facing these risks."
Each of those agencies is facing tough questions from Congress as lawmakers work on immigration legislation.
In particular, the Border Patrol — part of Customs and Border Protection — has lacked a yardstick to measure illegal immigration for the past three years, after scrapping the previous measure. Both Democrats and Republicans in the House have eviscerated administration witnesses who have tried to explain the predicament.