President Obama, who extolled the value of middle-class construction jobs during nearly five years of recession and recovery, has changed his tune to borderline contempt for the blue-collar jobs needed to build the Keystone XL oil pipeline.
In a speech in Chattanooga, Tenn., on Tuesday, Mr. Obama chuckled derisively when he mentioned that Republican lawmakers are promoting the pipeline project for the thousands of jobs it would create over two years.
"They keep on talking about this — an oil pipeline coming down from Canada that's estimated to create about 50 permanent jobs," Mr. Obama said. "That's not a jobs plan."
---
SEE ALSO: Obama, Democrats vow unified stance on debt
---
In an interview last week, the president gave a lowball estimate of "maybe 2,000" construction jobs that would be created by the pipeline project. He called those jobs "a blip" of what the nation needs.
The comments contrast starkly with Mr. Obama's attitude during his first term, when he expressed enthusiasm for construction jobs of all kinds. As part of his "We Can't Wait" campaign in November 2011, Mr. Obama held an event at the Key Bridge in Georgetown to call on Congress to approve more temporary stimulus spending on infrastructure projects to help unemployed construction workers.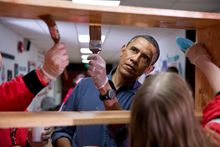 "Of all the industries hammered by the economic downturn, construction has been among the hardest hit," Mr. Obama said at the time. "I'm joining many of these workers to say that it makes absolutely no sense when there's so much work to be done that they're not doing the work."
He chided House Republicans at the time for considering legislation to reaffirm "In God We Trust" as the national motto rather than devoting time and effort to helping construction workers.
"That's not putting people back to work," Mr. Obama said. "I trust in God, but God wants to see us help ourselves by putting people back to work."
In February 2009, as he urged Congress to approve an $800 billion-plus economic stimulus package, Mr. Obama cited the need for construction jobs.
The stimulus legislation, he said at the time, "has the right priorities to create 3 [million] to 4 million jobs and to do it in a way that lays the groundwork for long-term growth by fixing our schools; modernizing health care to lower costs; repairing our roads, bridges, levees and other vital infrastructure; and moving us toward energy independence. It is what America needs right now."
Even before he took the oath of office in January 2009, Mr. Obama was promoting government-funded infrastructure projects that he said were "shovel-ready all across the country." Many of them also would have been temporary jobs, given the act's proposed life of two or three years.
Two years later, amid criticism that the stimulus law hadn't produced the promised number of construction jobs, Mr. Obama wisecracked, "Shovel-ready was not as shovel-ready as we expected."
The president's top aides said Mr. Obama wasn't disparaging the value of construction jobs in his most recent comments, but was trying to make a point that House Republicans lack a comprehensive strategy for creating jobs.
Dan Pfeiffer, senior adviser to Mr. Obama, told The Washington Times on Wednesday that the president's latest comments are "not inconsistent" with previous statements about construction jobs.
"One infrastructure project is not a jobs strategy," Mr. Pfeiffer said at a breakfast meeting with reporters hosted by The Christian Science Monitor. "That would be like saying our jobs strategy is to repair the Key Bridge. We're talking about one thing, and it would have some temporary jobs which would be significant. But in the overall scale of the employment situation in this country, as the president said, it's a blip. And when that's done, contrary to … the rhetoric you hear, it's 50 to 100 permanent jobs."