Meeting with Palestinian leaders in the West Bank, President Obama condemned an overnight rocket attack from Gaza that targeted an Israeli border town.
"We saw the continuing threat again from Gaza overnight with the rockets that targeted Sderot," Mr. Obama said Thursday during a joint news conference with Palestinian Authority President Mahmoud Abbas in Ramallah. "We condemn this violation of the important cease-fire that protects both Israelis and Palestinians, a violation that Hamas has a responsibility to prevent."
Israeli police say no injuries were reported after two rockets slammed into the Israel-Gaza border town during Mr. Obama's first visit to the country. Mr. Obama was miles away in Jerusalem at the time, preparing to visit the Israel Museum, where he inspected the Dead Sea Scrolls.
---
SEE ALSO: Obama pledges to stop nuclear Iran, but says he still 'prefers' diplomatic resolution
---
The president said the rocket attack is an example of why Palestinians in Gaza live in "misery," saying their fate is controlled by the terrorist group Hamas.
"Hamas cares more about enforcing its own rigid dogmas than allowing Palestinians to live freely, because too often it focuses on tearing Israel down rather than building Palestine up," Mr. Obama said.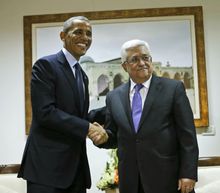 The president said the U.S. is "deeply committed" to the creation of an independent state of Palestine and that the "shape of a deal is there" if negotiations can be restarted with Israel.
---
SEE ALSO: From Israel, Kerry sends peace message to Iranians
---
Mr. Obama said both sides need to overcome "irritations" to the peace process, such as continued Israeli settlement in the West Bank and rocket attacks by Palestinians. He insisted that peace is achievable, saying that even "the United States and Canada have arguments once in awhile."