VIERA, Fla. — It happens so often it's almost as if talk of one is not complete without the other. As if the same breath must mention both players because discussing one means, by extension, discussing the other.
Ask Washington Nationals manager Davey Johnson about Ian Desmond, you'll get an answer that references Danny Espinosa. Ask about Espinosa, you'll get one that mentions Desmond.
Maybe it's their ages; Desmond is 27 while Espinosa will turn 26 in April. Or major league service time, as Desmond is entering his fourth season, Espinosa his third. Or the fact that they're the middle infielders upon which so much of the Nationals' strong defense rests.
Whatever the reason, the comparison is almost always present.
"I think we're cut from the same mold but in different shapes," Desmond said. "We're the same guy, but a little bit different personality. I think any time you want to play and you want to succeed so much — and we both do — you'll put a little extra pressure on yourself and you'll go to any extent."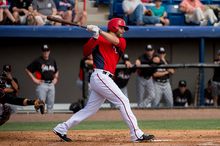 That brings us to this spring, with Desmond coming off the best year of his career. A season in which the shortstop hit .292 with 25 home runs, 60 extra-base hits, and a .511 slugging percentage. He stole 21 bases, raised his on-base percentage .037 points from 2011 and cut down his strikeout total by 26. He was named to the All-Star team, won a Silver Slugger award and earned a nearly $3.3 million raise in his first year of salary arbitration.
It was the maturation that everyone had been waiting for from Desmond. The year in which he went from a player with supreme talent who had highs and lows to one of the best at his position.
Perhaps not to the letter, but in a lot of ways, it's the type of third-year breakout the Nationals are hoping for from Espinosa.
"As you mature into a better hitter, strikeouts come down, on-base percentage goes up," Johnson said. "Desmond, he's a better hitter. He knows who he is, he knows what he needs to do. They're similar.
"I think Espi reminds me of about where Desi was a year or so ago. He's got a better approach from the left side, I like what he's working on, I like his mental approach."
Such comparisons could motivate Espinosa to strive to follow in the footsteps of the teammate he's been right behind for much of his career. It could also serve to pressure him, and perhaps it will. But Espinosa said he is done pressuring himself.
"I've made my expectations so high the last two or three years, I've set none [this year] in the sense of, 'Why put pressure on myself anymore?'" Espinosa said. "This year I'm just like, 'I'm going to go out there and play good.' I know if I'm hitting well, I know if I'm not. … I'm just going to go out there and play and I'll let the numbers accumulate themselves.
"I'm not going to put so much pressure on myself to where it's working against me. I don't want to do that."
It's an attitude shift that teammates have noticed in Espinosa, who spent the entire offseason strengthening the muscles in his left shoulder to avoid surgery for a torn rotator cuff. The injury no doubt affected Espinosa's stat line — most glaringly the major-league-leading 189 strikeouts. But if, and how, it will affect him this season is unknown.
The third season for a lot of players is the one in which they truly establish themselves. Some get there quicker, such as Ryan Zimmerman. Others take longer. Cincinnati Reds star Brandon Phillips made his major-league debut in 2002 and didn't find an everyday role for another four years.