EXCLUSIVE:
Two months before enrollment began in the Obamacare exchanges, the administration's top health care official heaped praise on WebMD for launching an online resource to help Americans navigate the complex law.
The consumer health care site had the occasional nice thing to say about Obamacare, too. In one article, it predicted doctors might pick up more patients and crowed in an article titled "7 Surprising Things About the Affordable Care Act" that many consumers already had received insurance refunds under the law.
---
PHOTOS: Eye-popping excuses in American political scandals
---
But what neither Health and Human Services Secretary Kathleen Sebelius nor WebMD mentioned at the time was that the company, which millions of Americans regularly read for health news, also stood to earn millions of dollars from a federal contract to teach doctors about Obamacare.
The contract documents, reviewed by The Washington Times, reward WebMD handsomely. For instance, the fee schedule offers dozens of products, including: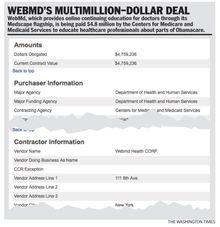 • As much as $126,826 for a single 5,000-word review article on scientific advances in a clinical topic.
---
SPECIAL COVERAGE: Health Care Reform
---
• Up to $68,916 for a four-minute video from an opinion specialist.
• More than $140,000 for an eight-question online quiz.
WebMD says it doesn't believe it had an obligation to disclose to its broad consumer base its $4.8 million contract with the government. The company says the contract, while awarded to WebMD, went through its Medscape platform, which provides continuing education to doctors in a password-protected portal and is run independently from WebMD's news operation.
But a key senator disagrees.
Sen. Chuck Grassley, Iowa Republican, told The Washington Times that WebMD's status as an Obamacare contractor merits more disclosure.
"Disclosure and transparency would be a good practice for any recipient of federal funding to promote the administration's health care plan," said Mr. Grassley, an influential member of the Senate Finance and Budget committees.
"Even if certain content is not produced with federal funding, but the same company takes federal government money to produce other materials, consumers would be better-informed by knowing the financial relationships," the senator said.
Beyond the contract, there are other signs of closeness between the administration and WebMD.