A New York bus driver went above and beyond the call of duty earlier this month when he came across a troubled woman standing on an overpass and decided to stop his bus full of passengers to help her.
Driving the Elmwood 20 bus southbound toward Buffalo State College on Oct. 18, Darnell Barton saw the young woman and stopped the bus in the middle of the overpass, a local TV station reported.
"It didn't seem real because what was going on around, traffic and pedestrians were going by as normal" Mr. Barton told WIVB.
---
SEE ALSO: Nevada Marine-turned-teacher was 'hero' for shielding students from gunman
---
Audible on the bus' surveillance video is Mr. Barton shouting from the driver's seat: "Ma'am, are you okay?"
When she didn't answer he walked toward her.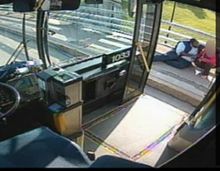 "She was distraught, she was distant, she was really disconnected," the driver told the station. "I grabbed her arm and put my arm around her and said 'Do you want to come on this side of the guardrail?' And that was actually the first time she spoke to me — she said yes."
Video shows Mr. Barton lifting the woman from the other side of the railing and sitting down with her on the sidewalk.
"It was meant to be. I was supposed to be there for her at that moment and I was. I wanted to convey that whatever it was, I'm going to help you through and it's not as serious as jumping onto the 198," he told the station.
They were soon joined by a corrections officer who had seen her from the road and another good Samaritan who said she was a counselor, WIVB reported.
Loud applause and cheers can be heard on the tape.
"I feel like I did what I was supposed to do at the time. I'm a football guy so when you sit the bench and the coach calls your number, you gotta go in there make a play, do what the play calls for, and I think that's what I did," he said.