With the rocky rollout of his health care law in a post-deadline lull, President Obama will move this week to shake up his health care team, accepting the resignation of Health and Human Services Secretary Kathleen Sebelius and tapping his budget director as a troubleshooting replacement, the White House confirmed Thursday.
Mrs. Sebelius, a former Kansas governor who has served as HHS secretary for Mr. Obama's entire tenure, was the president's point person as his signature law stumbled out of the blocks in October.
Despite calls for her to be fired, Mrs. Sebelius stayed on the job to oversee a recovery of HealthCare.gov that resulted in at least 7.5 million enrollments for health care plans.
---
SEE ALSO: JOHNSON: Obamacare exit strategy brings endless waits on hold
---
Mrs. Sebelius, however, is seen as damaged by too many congressional Democrats who are warily eyeing November's elections, in which Obamacare is expected to play a major role.
Some Republicans could barely contain their glee.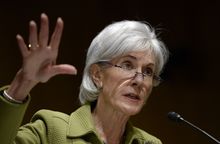 "Are you going to be drinking out of a red solo cup or crystal stemware tonight as you celebrate @Sebelius resigning?" Rep. Marsha Blackburn, Tennessee Republican, wrote in a Twitter message. She was making a reference to a sharp exchange she had with Mrs. Sebelius at one of the congressional grillings the secretary faced after the botched rollout.
---
SPECIAL COVERAGE: Health Care Reform
---
Senate Minority Leader Mitch McConnell also alluded to a previous Obamacare-related quote, in his case a famous comment from former Sen. Max Baucus, Montana Democrat.
"It's fitting that nearly one year after the primary legislative architect of Obamacare predicted it would be a train wreck that the government official most responsible for overseeing it reportedly is resigning," the Kentucky Republican said before going on to call the resignation "cold comfort to the millions of Americans who were deceived about what [Obamacare] would mean for them and their families."
The White House said Mr. Obama on Friday will tap Sylvia Mathews Burwell, director of the Office of Management and Budget, to replace Mrs. Sebelius.
Ms. Burwell took the budget post a year ago after winning confirmation on a 96-0 vote.
She will have her work cut out for her at HHS as the department prepares for the second round of Obamacare enrollments later this year and as it tries to limit the disruptions, price increases and cancellations that Republicans say are bound to occur.
Already, insurers are reporting that a statistically significant percentage of people who selected plans on the Obamacare marketplace have failed to pay up. On Thursday, an executive at PacificSource Health Plans told The Washington Times that an average of 9 percent of would-be enrollees it obtained from the exchanges in Oregon, Idaho and Montana have been canceled because of nonpayment.
Meanwhile, the federal exchange system known as HealthCare.gov is transitioning to a new vendor, Accenture, and several state exchanges are switching Web platforms or battling their contractors over payment, citing poor performance.
Sen. Joe Manchin III, a West Virginia Democrat who has been among the biggest Obamacare critics within the president's party, said Ms. Burwell is the right person to oversee the fixes needed to keep the law afloat.
"Sylvia's experience in both the public and private sector, matched with the bipartisan relationships she has built over the years, shows that she is a public servant ready to take on this country's challenges," he said.