Georgia Gov. Nathan Deal signed a sweeping right-to-carry bill Wednesday, making his state the latest to give a victory to the gun rights movement in what is emerging as a banner year for advocates of firearms access and self-protection.
The law, which takes effect July 1, permits licensed gun owners to carry firearms into bars and some government buildings with no security at the entrance. Churches, mosques and synagogues may decide whether to allow armed guests, and school districts may permit employees to carry firearms.
"This law gives added protections to those who have played by the rules — and who can protect themselves and others from those who don't play by the rules," Mr. Deal, a Republican, said in his signing statement.
---
SEE ALSO: Opposition rising to Colorado gun control laws
---
---
PHOTOS: Georgia's new carry law a big win for gun rights
---
The National Rifle Association described the Georgia law as "the most comprehensive pro-gun reform legislation introduced in recent history."
Gun rights advocates appear to be winning the argument over what is safer: expanding access to firearms or trying to restrict it.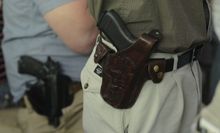 At least 30 states have passed some kind of pro-gun legislation this year, a stark contrast from last year, when a half-dozen states approved gun control bills after mass shootings in Newtown, Conn., and Aurora, Colo.
---
SPECIAL COVERAGE: Second Amendment and Gun Control
---
Kansas Gov. Sam Brownback, a Republican, announced Wednesday that he has signed a bill preventing local officials from restricting the sale of firearms and ammunition or regulating how guns are transported and stored, a measure designed to ensure that the state's open-carry laws can effectively operate statewide.
South Carolina Gov. Nikki Haley, a Republican, signed a bill in February that lets concealed-carry permit holders bring guns into bars and restaurants. Three other states are considering similar measures, according to the Law Center to Prevent Gun Violence.
In Colorado, where the governor signed sweeping gun control bills in March 2013, voters appear to be having a case of buyers' remorse. A Quinnipiac poll released Wednesday found that 56 percent of Colorado voters surveyed oppose the gun control measures, while 39 percent support them.
Meanwhile, President Obama was stymied last year in his efforts to push a bill expanding background checks through the Senate. Instead, he has used his power to enact about 25 executive orders aimed at tightening access to firearms and providing more information on mental illness in the federal background checks.
The media are taking notice. "Frontline" on PBS ran a Dec. 10 report called "How the Gun-Rights Lobby Won After Newtown." The Atlantic Monthly carried a March 28 article, "The NRA Wins Again."
NRA spokesman Andrew Arulanandam pointed to polls showing that most Americans favor armed guards to deter violence at public schools, which are traditionally are gun-free zones. Support for arming teachers who are licensed gun owners also is gaining interest.
The NRA launches its annual three-day meeting Friday at the Indianapolis Convention Center.
"As people process this information, they realize that we're actually proposing something substantive that will save lives," Mr. Arulanandam said.
Gun control advocates also have notched victories this year.