LA PALMA, Calif. — Kwang Song has never voted in the United States, but that could change after the 71-year-old bumped into Michelle Steel, a Republican candidate for the Orange County Board of Supervisors, outside the Hannam Chain Korean market in northern Orange County this month.
Asked, in Korean, what party Ms. Song wanted to register with, she told Mrs. Steel, the same party as you.
Mrs. Steel and other Republicans from California to Washington, D.C., hope there are plenty of other ethnic voters like Ms. Song.
The GOP is tapping into Democratic-style identity politics to try to find a way to stop, or even reverse, its eroding support among minority voters.
"California is a precursor of the dynamic change, demographicswise, in America," said Shawn Steel, Mrs. Steel's husband and a member of the Republican National Committee from California. "So this is a harbinger. This is a call in the dark night saying, 'Look, guys, let's change. We have to adapt or die.'"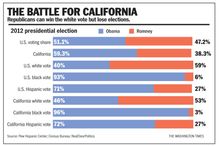 In the state that controls the single biggest pot of electoral votes, Wayne Lindholm, president of the Lincoln Club of Orange County, which has served as a rich source of funds for the GOP over the years and whose members have included Richard Nixon and John Wayne, summed up the party's challenge more bluntly: "We need to break the image of being just old white guys."
This state used to be Republican territory, producing Nixon, Ronald Reagan and other GOP stalwarts up through the late 1980s, when dramatic demographic trends began to eat away at the conservative voter base.
That has been the case in Orange County. Louis DeSipio, a professor of Hispanic studies at the University of California, Irvine, said Nixon wouldn't recognize his former stomping grounds.
In 1980, the state's population was 65 percent white, 23 percent Hispanic and 10 percent Asian. Fast-forward to today, and of the state's estimated 38 million people, 34 percent are Hispanic, 19 percent are Asian and 43 percent are white.
That is a problem for a party that has won elections primarily on the backs of white voters. The result: Democrats control the governorship, both U.S. Senate seats and large majorities in both houses of the state Legislature. George H.W. Bush, in 1988, was the last Republican to carry the Golden State in a presidential election.
"The white electorate on which [Republicans] have relied for many years is growing much more slowly than the non-white electorate," Mr. DeSipio said.
Relying on white voters isn't working for the Republican Party nationally, either.
Its 2012 presidential nominee, Mitt Romney, won 59 percent of the white vote, a higher percentage than Ronald Reagan did in 1980 when he defeated Democrat Jimmy Carter. But most minority voters roundly rejected Mr. Romney, and that cost him the White House.
President Obama won the votes of 73 percent of Asians and 71 percent of Hispanics nationally, and 72 percent of the Hispanic vote and 79 percent of the Asian vote in California.
Mr. Romney's loss, in a race that many strategists felt he should win, sent Republican leaders scrambling for answers.