Escalating his week-old military mission in Iraq, President Obama ordered about 130 U.S. ground troops to scout escape routes for Iraqis trapped on a mountain by Islamist extremists, and the White House on Wednesday didn't rule out sending a larger ground force to rescue the refugees.
White House Deputy National Security Adviser Ben Rhodes said the president and his advisers are considering the use of ground troops to create a safe "corridor" for the evacuation of the besieged Iraqis on Mount Sinjar but said they "haven't made that decision at this point."
Mr. Obama vowed a week ago, when he ordered U.S. airstrikes against the militants, that he wouldn't send combat troops to Iraq. Mr. Rhodes said the new troops "are not going to be in a combat role," but he acknowledged that any U.S. forces in Iraq could become engaged in fighting, depending on the enemy's actions.
---
SEE ALSO: U.S. Yazidis wary of arming Kurdish fighters in northern Iraq
---
Mr. Rhodes said the president "is open to recommendations in which the United States is helping to facilitate the removal of these people from the mountain on a humanitarian mission, which we believe is separate than saying U.S. forces are going to be … deployed in Iraq in a combat role to take the fight" to the militants.
"What he's ruled out is reintroducing U.S. forces into combat on the ground in Iraq," he said.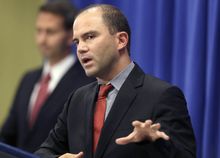 On Wednesday evening, Department of Defense officials said a Mount Sinjar rescue mission became "far less likely" after a team of U.S. Army Green Berets surveyed the situation in the last day and found fewer refugees and better conditions than had been expected.
---
PHOTOS: Top 10 U.S. military helicopters
---
Meanwhile, in Baghdad, embattled Iraqi Prime Minister Nouri al-Maliki said Wednesday he will not relinquish power until a federal court rules on what he claims is a "constitutional violation" by the president to replace him with a member of his own party.
"Holding on [to the premiership] is an ethical and patriotic duty to defend the rights of voters," Mr. al-Maliki said in his weekly address to the nation, insisting his actions were meant to "protect the state."
Although the militants' progress in the north has been slowed, attacks in and near Baghdad killed at least 29 people Wednesday. France said it is sending arms to Kurdish forces in northern Iraq to aid the Kurds' "urgent need" for support against militants of the Islamic State, and a Pentagon spokesman confirmed that the U.S. also is providing weapons directly to Kurdish fighters.
Mr. Obama ordered military "assessment teams" totaling 130 military advisers into northern Iraq to determine how best to rescue the tens of thousands of ethnic Yazidis trapped by militants of the Islamic State.
The president expects to receive their recommendations within days. "We want to see what the circumstances are, see what options are available for moving those people who are trapped on the mountain," Mr. Rhodes said.
The Green Beret team, which one official said consisted of about 20 to 25 commandos, returned Wednesday from its scouting expedition for a potential rescue mission. But after the excursion, officials decided there were "far fewer Yazidis" on Mount Sinjar than previously feared, Pentagon spokesman Rear Adm. John Kirby said.
"The Yazidis who remain are in better condition than previously believed and continue to have access to the food and water that we have dropped," he said. "Based on this assessment, the interagency [force] has determined that an evacuation mission is far less likely."
Defense Secretary Chuck Hagel made similar comments Wednesday night, crediting airdrops of food and water for keeping refugees alive and U.S.-led airstrikes for giving thousands of refugees a chance to escape without fear of Islamic State jihadists.
"As a result of that assessment, I think it's … far less likely now that we would undertake any kind of specific humanitarian rescue mission that we have been planning," Mr. Hagel told reporters.