Having failed to stop Russia's invasion of Ukraine, President Obama heads to Europe this week to reassure NATO members that he won't let Russian President Vladimir Putin crash any gates elsewhere in Eastern Europe, even as Mr. Putin continued to do exactly that over the weekend.
Mr. Obama will leave Washington on Tuesday for Estonia, the tiny Baltic country bordering Russia that left the Soviet Union and joined the 28-nation military bloc in 2004. On Wednesday, in the capital city of Tallinn, the president will offer encouragement to jittery Eastern Europeans in a speech focusing on the North Atlantic Treaty Organization's commitment to common defense against a rising Russian threat.
"This is the biggest challenge within Europe that NATO has faced since the end of the Cold War," said James Goldgeier, dean of American University's School of International Service. "The justification that Putin has used in supporting Russians who live outside Russia has understandably stoked fears in countries like Estonia."
---
SEE ALSO: Obama accused of diminishing U.S. standing in fight against terrorism
---
Ethnic Russians make up about 25 percent of Estonia's 1.3 million citizens, which could make an attractive pretext for Mr. Putin's expansionist goals beyond eastern Ukraine. Similar minorities exist in several former Soviet republics, and Moscow used the presence of Russian-speaking residents in Ukraine to justify its incursion and seizure of Crimea.
Putin demands talks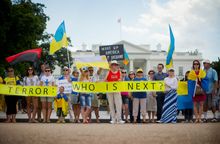 Mr. Obama, whose push for economic sanctions against Russia hasn't slowed Mr. Putin's military aggression in Ukraine, said he's traveling to Estonia to "reaffirm our unwavering commitment to the defense of our NATO allies."
---
SEE ALSO: Pro-Russian rebels lower demands in peace talks
---
"Part of the reason I'll be going to Estonia is to let the Estonians know that we mean what we say with respect to our treaty obligations," Mr. Obama said at the White House late last week.
White House aides say the president's message is intended to carry beyond a country that's smaller than West Virginia — to reassure audiences in Poland and other NATO members. Mr. Obama will also try to lend moral support to Ukraine, where Russian forces in tanks opened a third front last week in their lightly camouflaged invasion.
On Sunday, Mr. Putin said Ukraine should immediately start talks on the "organization" of the whole country, specifically including "statehood" for the pro-Russian eastern part of the country.
The government in Kiev should "hold substantive, meaningful talks, not about technical issues but about the question of the political organization of society and statehood in southeast Ukraine, with the goal of safeguarding the legitimate interests of those people who live there," Mr. Putin said on the Russian TV network Channel 1.
Although Mr. Putin used the politically fraught term "statehood," spokesman Dmitry Peskov later said the Kremlin leader was not pushing sovereignty for two eastern regions where Russian-speaking rebels have been battling the Ukrainian government, reportedly with the aid of Moscow's forces and firepower.
The two regions, one around Donetsk and the other around Luhansk, have declared themselves "Novorossiya" (New Russia), and analysts see a possible repeat of the Kremlin's seizure and annexation of Ukraine's Crimea region, also populated by ethnic Russians.
NATO war promises
Charles Kupchan, the White House National Security Council's senior director for European Affairs, said Mr. Obama also has a message for Mr. Putin: "Russia, don't even think about messing around in Estonia or any of the other" NATO members.
Under the terms of the NATO treaty, an attack on any member — including the three former Soviet Baltic republics of Lithuania, Latvia and Estonia, plus several ex-Communist countries in Eastern Europe, such as Poland and Romania — is an attack on all, including the U.S., Britain and Germany.